By Web Launch Local | July 17, 2019 | Leave a comment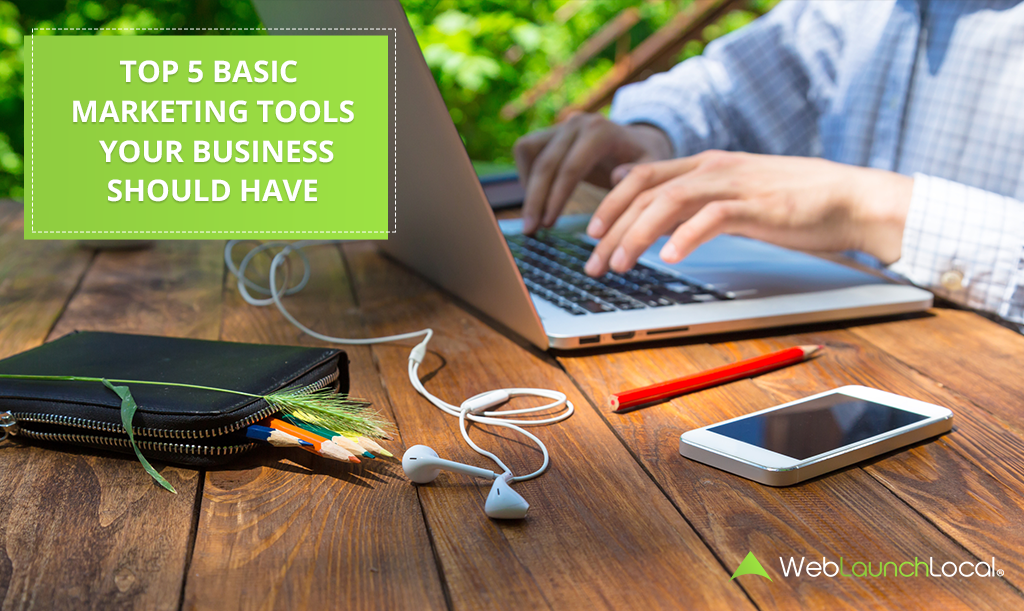 Got big plans for the future but your business is small and your marketing budget is even smaller? One tidbit of information that gets thrown around a lot is that small businesses invest only 3% of their revenue into marketing, spiraling into a cycle of ineffective marketing doling out below-average results and insubstantial growth. The thing is, the main problem isn't investing small, it's doing so on one or two things that everyone else does and expecting big results.

There are plenty of digital marketing tools for small businesses out there, and they are built to do anything you can imagine. While a couple of them will obviously not work for your business goals, we are sure that you will find the right ones in no time, and some of them even offer free plans! The real solution is to invest both time and money in a smart way to diversify your efforts. This is a list of useful tools that can help you accomplish that!

1. Canva & Unsplash

However relevant and high-quality your ideas or written content might be, sometimes that alone won't be enough to catch your audience's attention if you don't enhance it with visuals. When it comes to easily designing beautiful custom graphics and editing pictures for all sorts of online content, Canva is the gold standard. And if you need high-res pictures for your website or social media, UnSplash is a great option.

The reason we recommend these together is that you can take the beautiful pictures you find in UnSplash and turn them into blog post images, newsletter headers, infographics, and pretty much any other type of content. The best part? Both services have free plans!

2. Mail Chimp

For most businesses, email marketing is not an option but an imperative if they want to succeed and grow. Over 80% of B2B and B2C use it successfully in their marketing campaigns, so leaving it out of yours is out of the question. And when it comes to email campaigns, nothing beats MailChimp's forever free plan, which lets you send up to 12,000 emails per month to a whopping 2,000 addresses. It's one of the easiest email marketing platforms to use, the results look professional, and it offers you more sophisticated features to automate your efforts as your campaigns grow more complex.

3. Trello

If you're working on your marketing campaigns with a team, then you really should be able to manage all their projects and keep everyone on the same page. There are plenty of team-organization tools out there, but Trello is one of the most popular because of its flexibility and how easy it is to use. With it, you can organize your team's efforts, manage their projects, submit blog posts or content for reviewing and engage in a collective discussion that's much more immediate than email. While there are other tools similar to this out there, Trello is hard to beat as the most effective one.

4. Hootsuite

Hootsuite is an online tool that lets you handle social media like a professional: It allows you to schedule posts, create custom reports on your campaigns, automates responses, identifies influencers and sales leads, and track keywords and hashtags across platforms. If you're spending any amount of time in social media as part of your marketing campaign, then Hootsuite can quickly become your best friend, since it also acts as a centralized hub for all your social media profiles, saving you time and effort when managing them.

5. Crazy Egg

Generating leads through your website can turn into a painful trial-and-error process, but does it really have to be like that? Not if you use Crazy Egg, a tool that lets you see what's working and what doesn't work about your website so you can do the necessary changes to grow and get better results. Functions such as heatmaps and mouse recording let you see exactly how your visitors are behaving, while the A/B testing tool lets you compare any variant you can imagine to learn exactly what is the winning combination when attracting customers. That's only the beginning, however, and you can find which are the best functions for your business in time

We picked the five small business-oriented tools for marketing described above because they're easy to use right from the start, their functions grow along with your business, and the results are hard to match even by other similar tools out there. Some of them you can use on your own, while for others it's better to get a dedicated team to support your efforts. Then, you might also need a little guidance when it comes to actually make all of them work in unison, and that's where we can come in to help you.