By Web Launch Local | January 12, 2018 | Leave a comment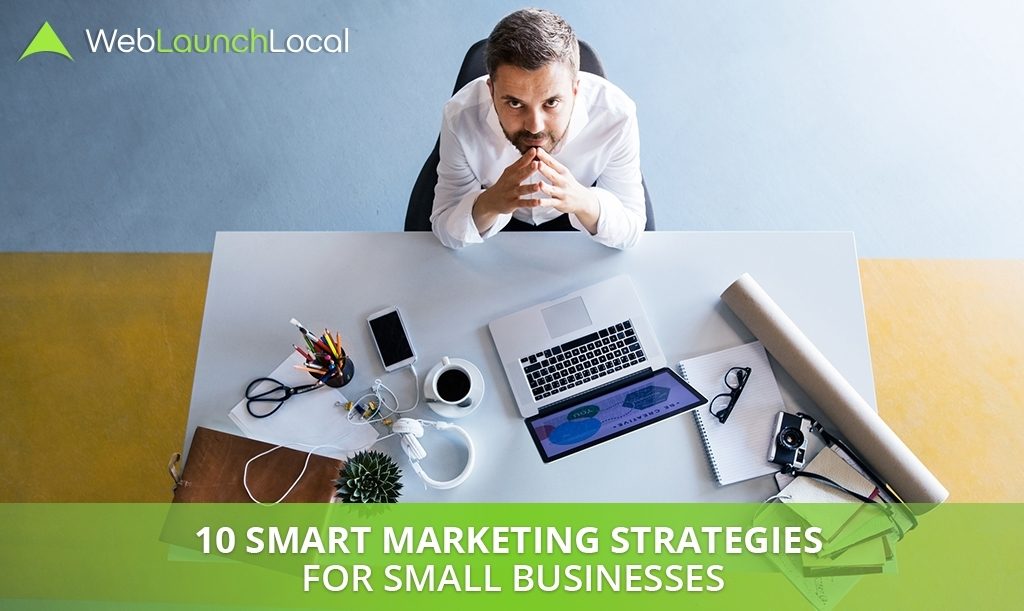 Whether you run a local consignment shop, opened a restaurant, or began a small professional consulting business, you are always on-the-go to look for methods to make your venture more attractive at the lowest possible cost.
Here are some of the best marketing strategies to try to make your micro-business the total bomb!
#1. Know your goals and set your budget.
First, define your objectives and maximize your budget. The very first thing that marketing consultants ask is, "What do you want to do?" This is the point where you need to assess what is most important to you; Are you looking for brand conversions or awareness? Do you want to expand your market or just maximize your local exposure?
#2. Give to receive.
In business, it's common knowledge that you need to spend money to earn money. The same goes for online marketing —- if you want to make a significant impact, you have to allocate funds to spend on paid search ads, social ads, display ads, etc. It really can be intimidating, especially if your head is spinning with essential questions; how to begin, how much do I pay, how to know if AdWords or Facebook Ads work, including whether you need to hire a professional to help you out or if you can do this all by yourself.
#3. Invest in Google's Local Offerings
Known to be the most widely used search engine, Google provides a surplus of offerings that can help small businesses. In 2015, Google started to ran "Let's Put Our Cities on the Map"  to lure local enterprises online. According to a report, companies having an online presence grow 40% faster than those without. If you have missed that boat, now is the perfect time to join the bandwagon!
By creating a "Google My Business" account, you can be in charge of the information for your business; things like the address, hours of operation, it's website and the phone number. With the new local search ads, your venture can appear on the Google Maps app or its website.
#4. Be a champ in one social platform
Managing a lot of social media accounts can be quite a handful. Juggling between, Facebook, LinkedIn, Twitter, Instagram, Pinterest, and Google+ can be confusing, and it's hard to tell if everything (or anything) works at all. Meanwhile, having an account in everything is excellent, but it's more efficient to choose just one platform where your consumers are present most often and then pursue.
Take this for example, if your customers are consistently tagging your handle or location in Instagram posts but rarely tweeting you on Twitter, invest more time and effort in Instagram. If you happen to be a creative designer, you may consider Pinterest.
#5. Email Marketing
If you're a micro-business, email marketing is a great chance to establish loyalty. If your consumers are providing their email addresses, it opens an opportunity to send out an event or sale notification. If events and sales aren't your things, consider sending a weekly or bi-weekly newsletter. People are most likely to be loyal and choose a venture that shows its human side; taking the time to announce newly-hired employees, awards or significant family events.
#6. Publish a blog
Blogging is fun, not only for the fact that you now have the perfect excuse to spend time on memes; it is also useful for branding and exposure. Your official company blog is where you will show potential customers that you are indeed an expert in the field you are in and are dependable for good advice and guidance.
You can also use this platform to exercise bragging rights! It can be anything from awards, projects, milestones or even about preaching your business savvy!
#7. Go for SEO Keyword Research
If you are clueless about what SEO is, then you're on the right page. Search engine optimization is a series of strategies used by marketers to achieve higher placements on the search results pages of Yahoo, Google, Bing or any other search engines to increase visits to their website. The good part? It's free! Bad news? It's quite tricky.
Know that it can take a long time to start generating results from your SEO strategies, but it pays off in the long term. The easiest thing you can do for now is to increase your search engine traffic by keyword research. Keyword research tools help you figure out what phrases and words your audience uses most often. As a newer or smaller business, it'll be hard to compete with bigger, more established ones for rankings, so it's advisable to start with long-tail keywords, which are less competitive and more specific.
#8. Share what you know
How do you do what you do? Share anything; that can be from webinars, YouTube tutorials, or your speaking lectures. Put your old presentations to use and place them on your blog!
#9. Network, Leverage Local
Get active on LinkedIn! It is one of the best methods to find businesses of the same kind, join group chats and forums for event invites or advice. Sponsor a few recreational activities and have your logo placed on the back or both sides of a shirt. Book a booth at a town fair. Host your event or have a local ad magazine advertise! Invite your community to lunch and learn sessions.
Another path to take is volunteering! Have your employees gather around to help a cause. Do good for your business and the world.  Many successful businesses allow their employees to volunteer their time for a charity, or a special event like an Easter Egg Drop, or local community cleanup project removing garbage from the roadside or a riverbed.
#10. Ask, Listen, Learn
Seek feedback and constructive criticisms. Note that the best companies are always consistently improving. After rendering a service, ask for your customer's comment regarding their experience with you. You can offer discounts to email consumers who complete a survey or have printed questionnaires at your store.
Their comments and suggestions are useful tools to highlight your strengths and any areas that need improvements.
Marketing had always played a vital role in the growth and success of any business. So, it's important that entrepreneurs allocate enough time, focus and funds to marketing — online and offline.
Get your small business marketing strategies going with the help of one of the bests! Contact Web Launch Local now to get started!
Tags: creative marketing ideas small business, examples of marketing strategies for small business, inexpensive marketing ideas for small business, marketing strategies for small business examples, types of marketing strategies for small business