By Web Launch Local | December 4, 2016 | Leave a comment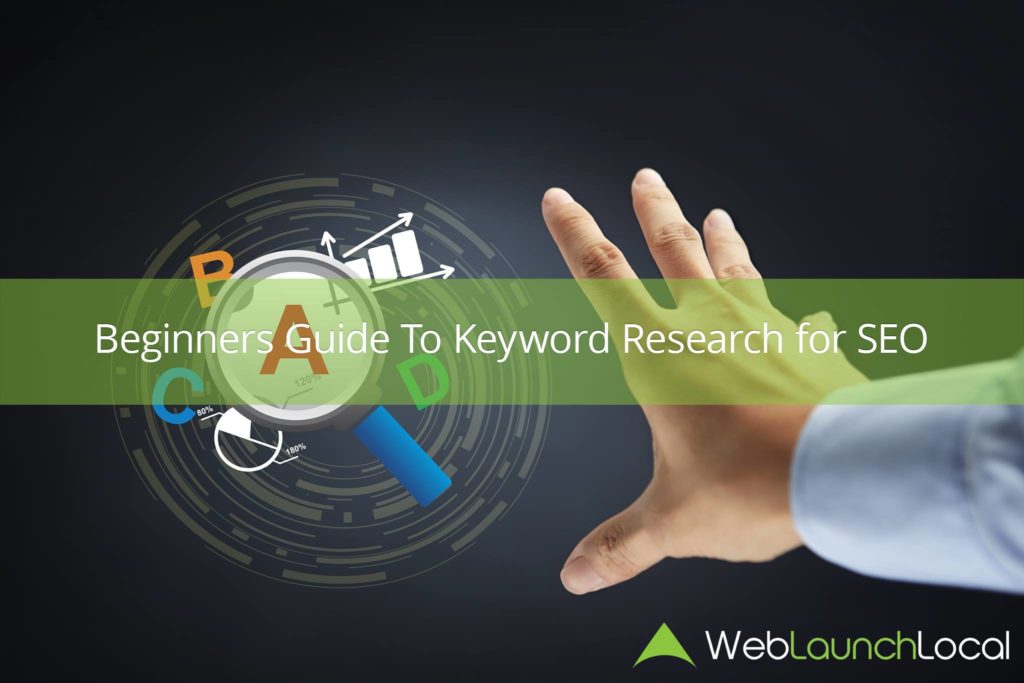 The Beginning Steps of Search Engine Optimization Starts With Solid Keyword Research
If you already know what SEO is about in general from our previous posts, then you may be wondering where do I start? Any Solid SEO strategy begins with proper keyword research. Regardless if you are just building out content for a blog post, or adding landing pages for your service areas, or working on getting backlinks to your website the foundation begins here!
Let's talk about the different type of keywords for SEO purposes:
Broad Match Keywords
Broad match keywords are intended to target topics in general. Here is an example, if you owned a cleaning service broad match keywords would be Maid Service, Cleaning Service, and House Cleaning. If you an HVAC Company they would be keywords link furnace repair, furnace dealer, or a/c repair. These kinds of terms are used for Topic Relevancy = what your site is about in general.
A good strategy would be to add landing pages as "Service Offered" for these keywords.
On Page Tip: Broad match keywords are typically used as "categories" in your blog posting and are also added as landing pages used to establish topic relevancy. Broad match is used for large scale business that has broad service areas.
Exact Match Keywords
Exact match keywords the exact terms your customers are typing into the search engines to find your product or services. Exact match keywords are intended to support broad match keywords. Example: House cleaning in <city>, Maid Service in <City> <State> these are the keywords you want to target primarily to rank for when performing Local SEO.
A good strategy would be to add landing pages as "Service Areas" for these keywords and the kind of keywords you're looking for when performing keyword research for local business. 
On Page Tip: Exact match keywords are good to use sparingly, keyword stuffing is not needed any longer. Instead, the strategy used most commonly now is whats called Latent Semantic Indexing or LSI. These are also commonly used as "tags" when posting in your blog posting.
Long Tail Keywords
Long tail keywords are the keyword that are searched by users that will have a lower monthly search volume or no volume at all. Long tail keywords are very targeted service or product specific search terms.
Example: The person searching for your services does not necessarily know when searching "cleaning service <city>" that you offer a specific service. That user will most likely search using a more targeted description of the services they need like "post construction cleaning <city>" , or "eco-friendly house cleaning <city>".
You can see how this is a much more targeted and relevant search to the user and is why you see less of a search volume when performing your keyword research. Long tail keywords typically have a higher conversion rate and are easier to rank for in the serps.
On Page Tip: Long tail terms are great Topics for your blog posts. A great tool to use to find these keywords is Ubersuggest.
Geo-Targeted Keywords
The previous keyword types will fall under whats called non-geo location keyword so let's talk a little about location based search results or the geo-terms.
Here an example of the difference between geo and non-geo keyword: house cleaning Atlanta, and house cleaning, when searched in the physical area of Atlanta but not using the term Atlanta in the search, will have different results, and those keyword without the location are harder to track when it comes to volume. Any tools you use will generally give the total US based search results for
Any keyword tools you use will generally give the total US based search results for them and into giving you any kind of indicator of what that means to you locally, and can only be found within your google search console.
Make sure you have that setup, and your google analytics is linked to it as well as your AdWords account. You get some super ninja information from it in AdWords! Now you can filter your Google Search Counsel to see those terms with little to no volume that you are showing up for and begin to start ranking for them!
Free Google Keyword Planner
Now that your know what types of keywords you're looking for know its time to explore how to find them! 
I found this cool little keyword tool by Serps.com. I'm not sure how long it will be available but for now, this will do the trick for a quick and simple keyword research if you can get past the annoying popups.
Simply type in your guess of what an exact match keyword would be <your service/product> <city> and it instantly shows the results.
The Google keyword planner listed just below this is by far the best option for keyword suggestions without paying for a research tool. With this specific tool by Serps you will have to keep typing in different search terms till you get our suggested 20 keywords to track.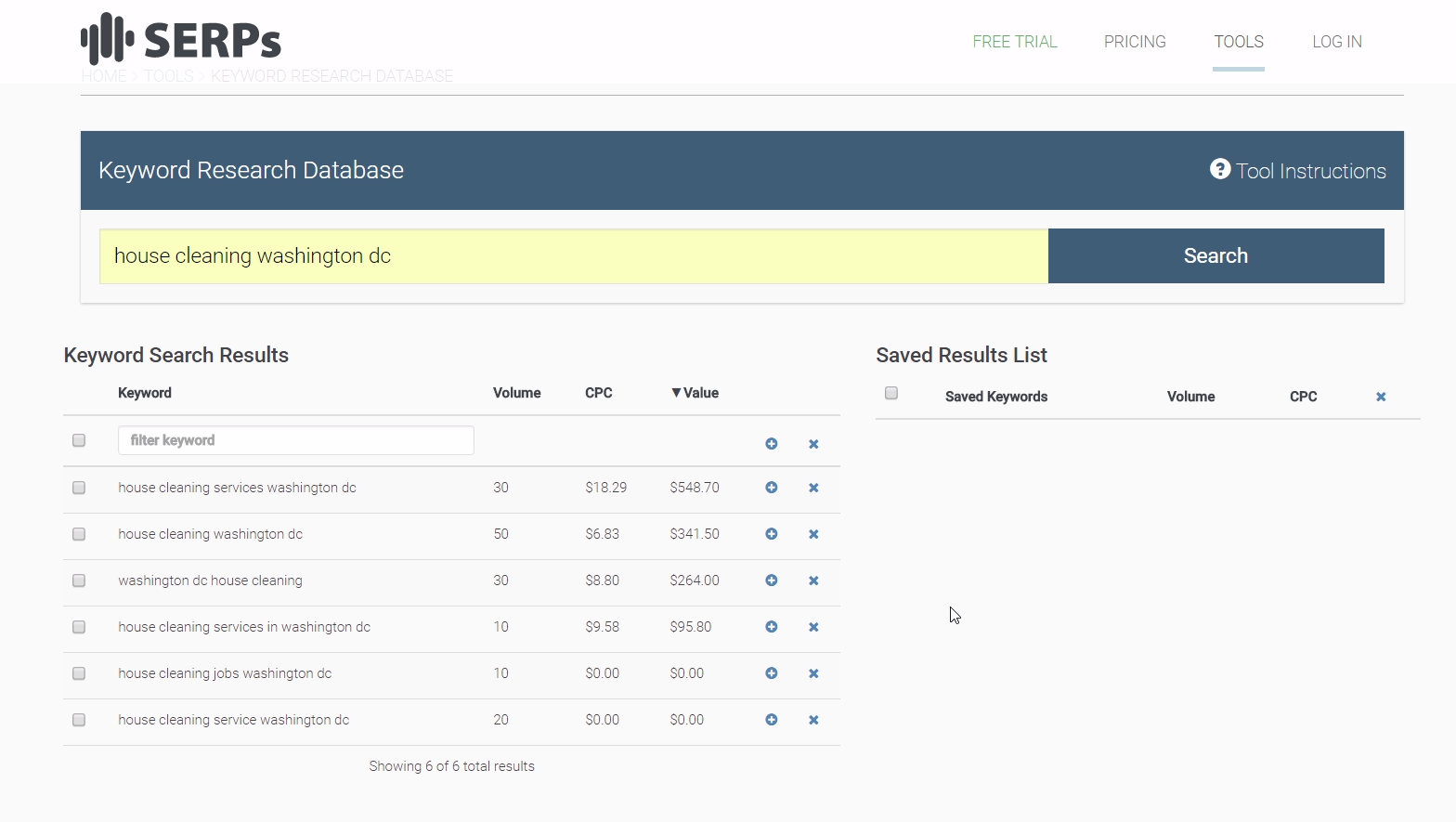 How To Perform Keyword Research With Google Keyword Planner
Google offers a free keyword research tool, now Google has limited the detail to only active AdWords account so you may have to ask a friend who runs an AdWords for their business to perform this for you or pay a professional SEO to do this for you. We do this all the time for clients, you can see an example report here.
Go to https://adwords.google.com/ or search for "Google keyword planner"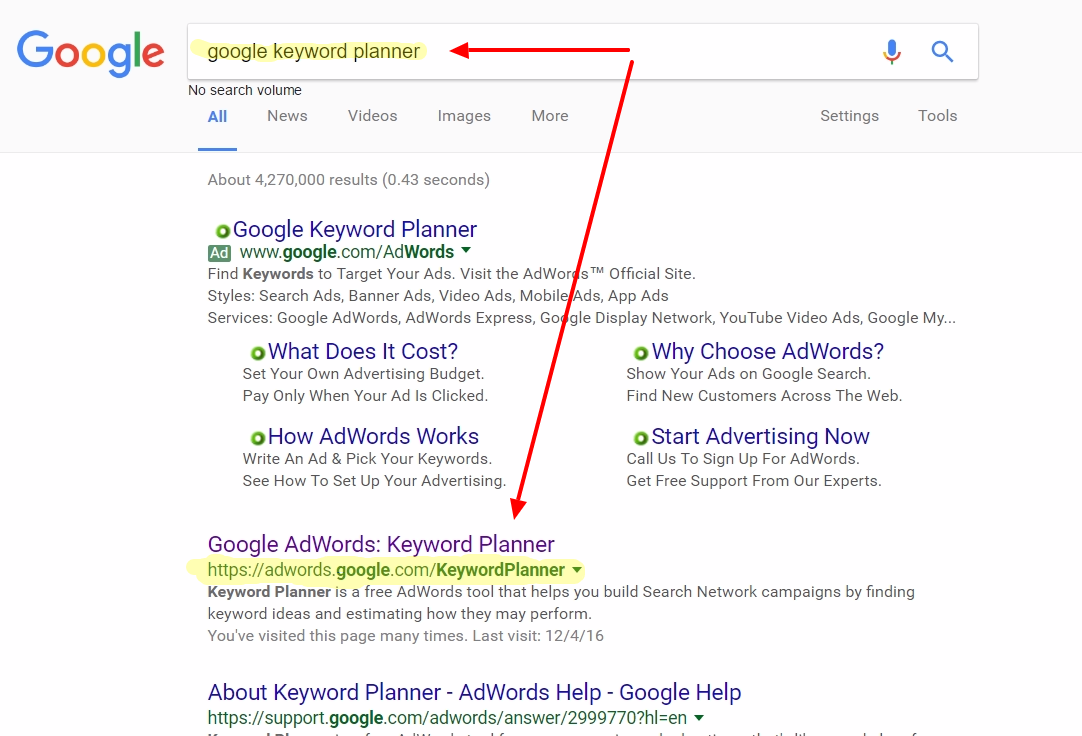 2. Once your logged into Google AdWords, select "Search for new keywords using a phrase, website or category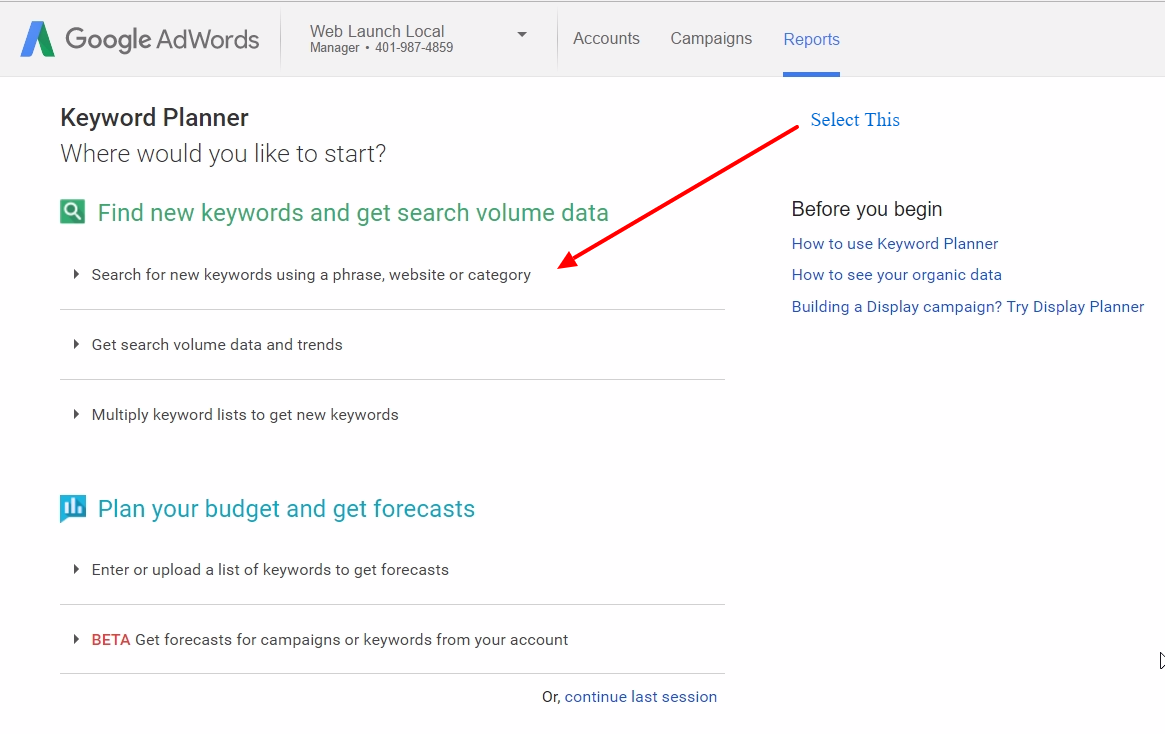 3.  I usually just guess, in this example I guessed on an exact match keyword of "<house cleaning> <washington> <dc>"  if it doesn't have volume Google will still have suggestions and the volume data for those suggestions.
Select your target area, for this purpose I targeted the US because this type of service though location based can be searched for across the US by a relative searching for someone, or maybe they are moving to the area. You can also just select the target area of Washington DC if you like.
Then select "Get Ideas"
Tip: for home services, you will select "Home and Garden" as your category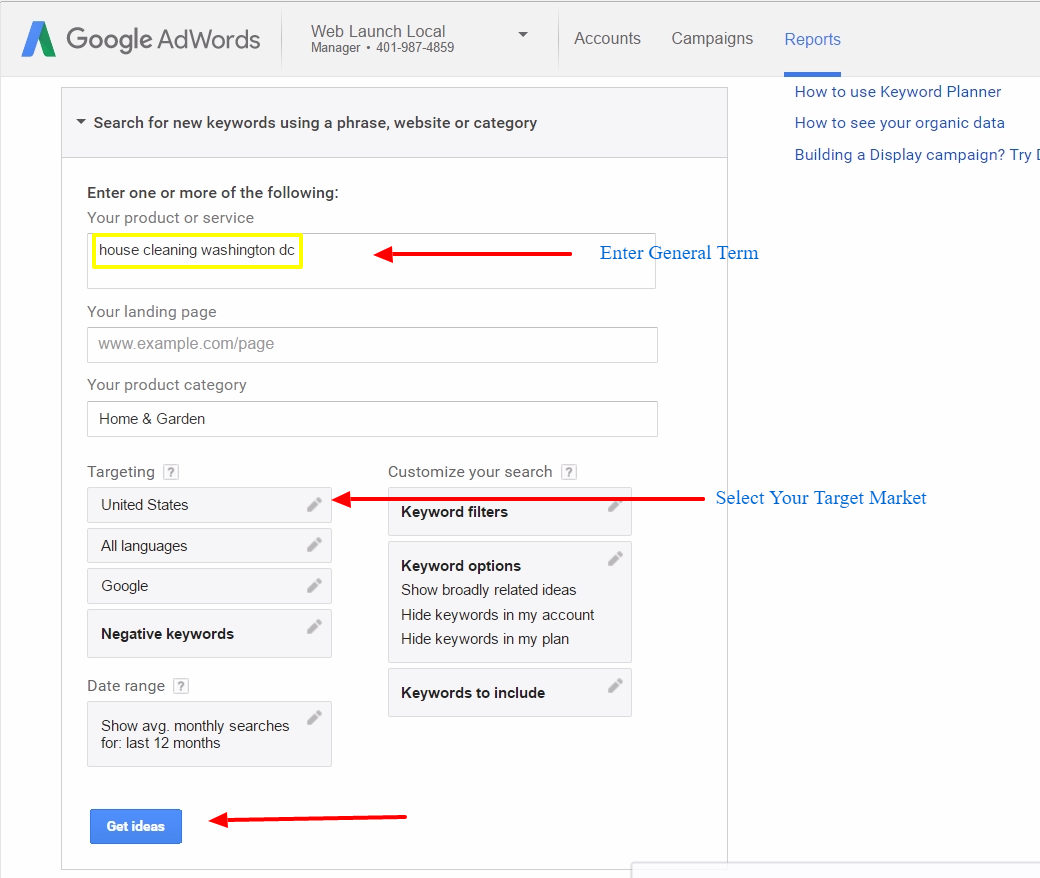 4.  In this data we are looking for keywords that have search volume, or "exact match keywords"  if your screen looks different than this and shows a range of keyword volume vs the exact monthly volume you will need to find someone who's Google AdWords account is more active to continue or use the free keyword tool mentioned above. Skip to #6 for exact example.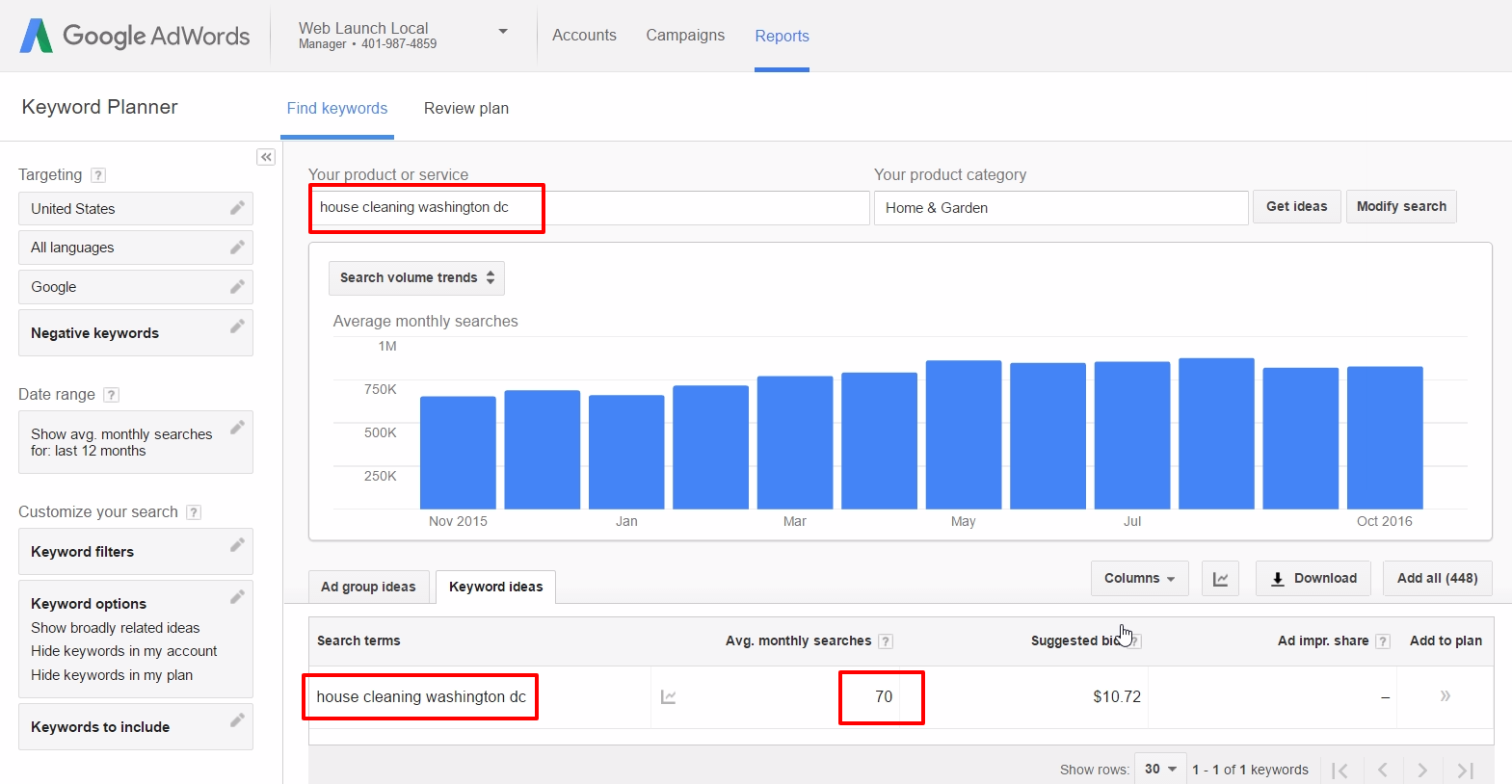 5. Scroll down to see the complete list, you may need to try a different search term if nothing came up from your guess. The exact match terms are what we want to focus or SEO efforts to rank for, you can use your broad match terms for topic relevance but not keyword tracking.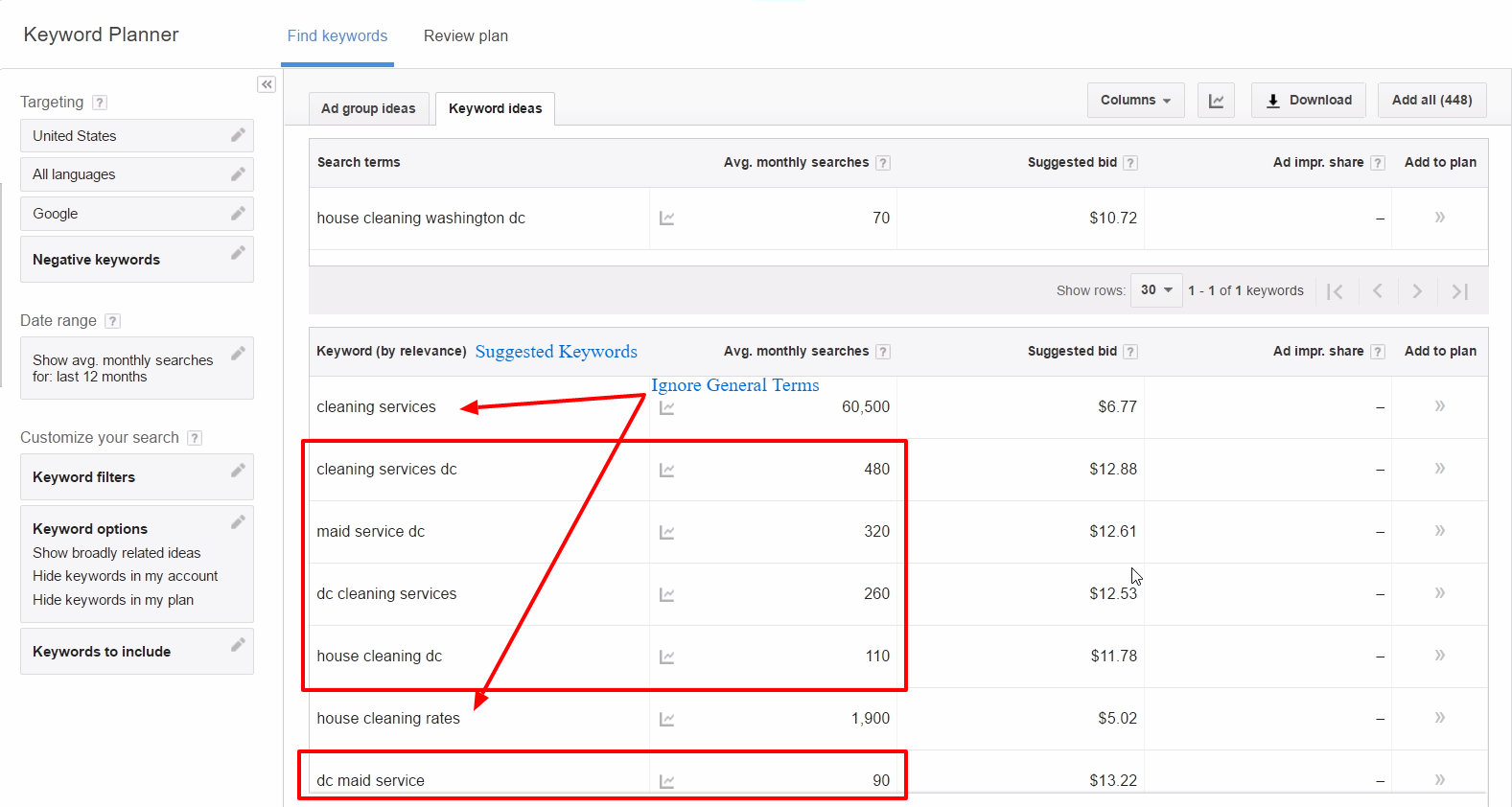 6.  This is what a non-active AdWords account will show, and when you will need to find someone to help you with your keyword research.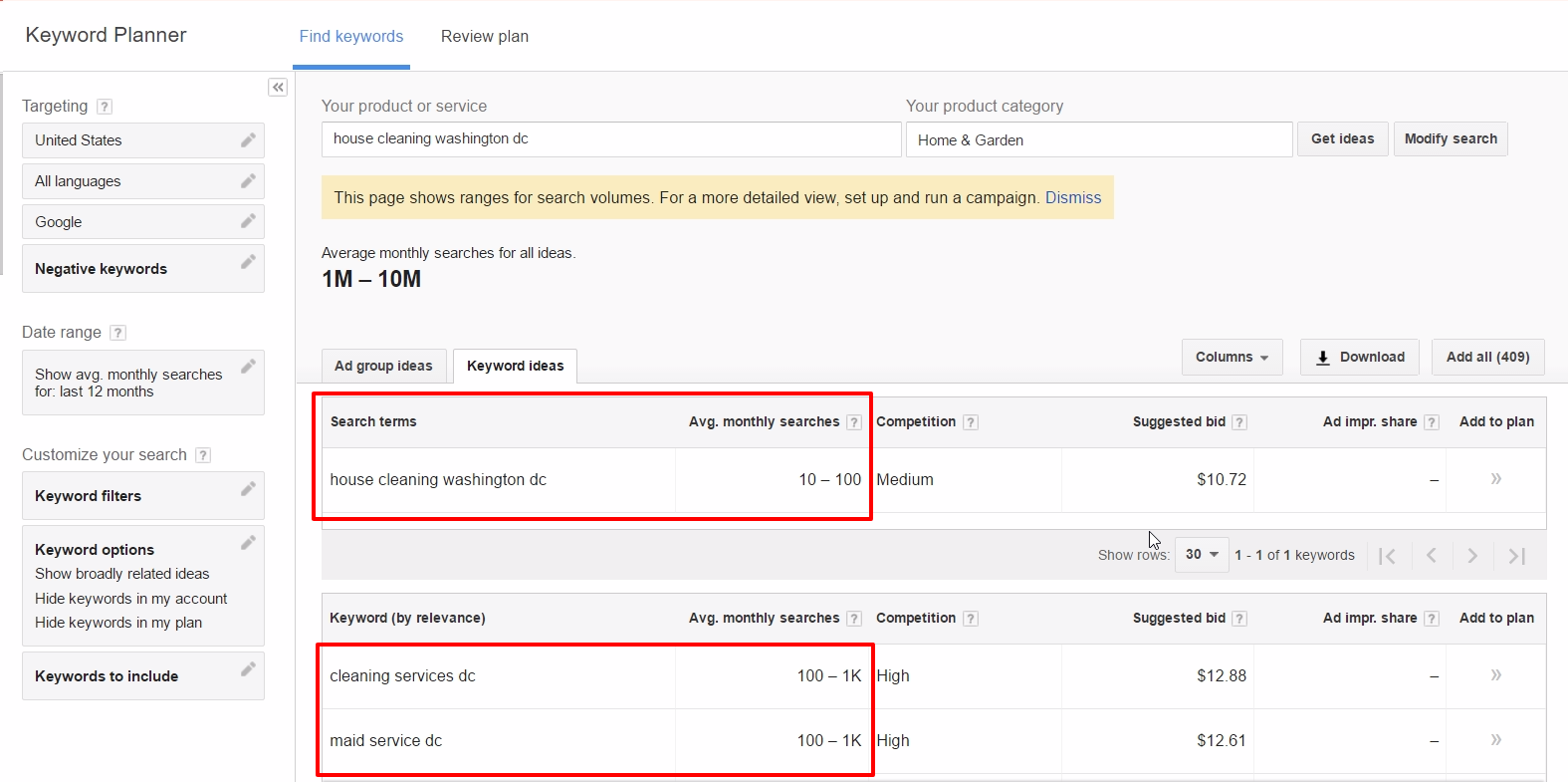 You can download the keyword list from step 5, and try to search for more terms if needed. I like to track at least 20 keywords, so I would say no less than 10 keywords and up to as many as you like. You will find that the more volume the exact match keyword has the more competition the keyword will have and the harder it will be to rank for it.
Keyword Volume and What the Monthly Search Volume Means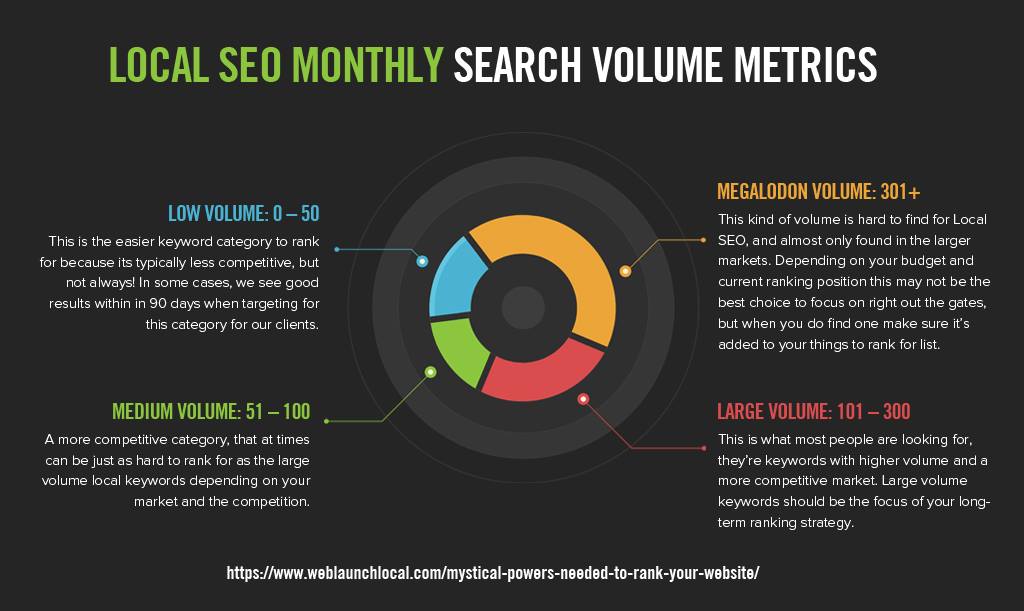 Our Keyword Tools
We use many tools for keyword research because we do this on a much larger scale so we use keysearch.co a great product that simplifies the process and has an API and allows us to brand our keyword research. Keysearch also has a competitive analysis built into the UI that gives us a quick snapshot needed to know the level of competition. Now, these features are not needed for small scale but they do have a free trial if you want to check them out.
We will also do a manual competitive analysis where we take a site that is already ranking for a large volume keyword, who also offers the same services or products as the site we are performing the research on and run ahrefs scan.  This ensures that we find all keywords that have good volume and any long tail keywords we may have missed.
Finally, we will take those keywords and add them to Serplab, an awesome free keyword tracking tool that will work perfectly for what any small business needs when tracking keywords. We also track those same keywords for mobile, since Google has a separate algorithm for mobile this is very important in today's mobile-first world and another tracking report for Local Maps. We schedule each of those searches to email the tracking results weekly.
Tags: keyword research