By Web Launch Local | January 21, 2020 | Leave a comment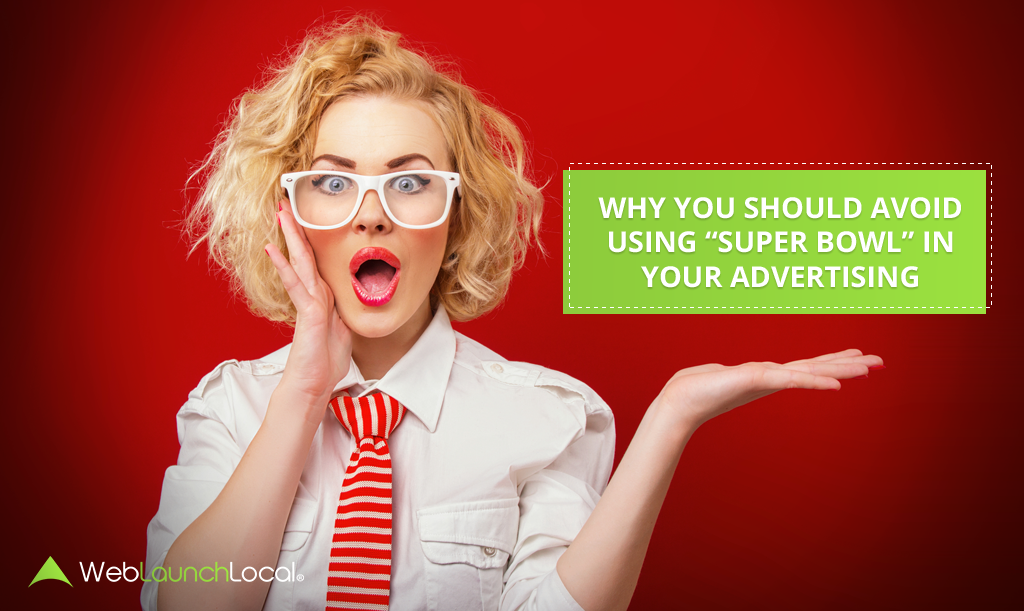 We all should be pretty familiar with names like the Super Bowl, Pepsi, Ford, Budweiser, Xbox, etc. These names are branded and trademarked throughout the world of marketing, advertising, and social media. The use of their name or any part of their brand comes with a number of limits and a hefty price tag. Is this level of advertising worth the expense? Or the hoops you must jump through? 


As pro football nears the end of the season, sports fans eagerly wait for the Super Bowl on February 2, 2020. However, don't expect to see very many "Super Bowl" labeled ads during the game—not as a boycott but because of Intellectual Property Rights. The average cost for using the trademark words like "Super Bowl" or the names of any NFL team or its teammates is up to $5 million for a 30-second spot. For major corporations, this may not seem like much, but for many smaller businesses using the trademark "Super Bowl" in social media and advertising is not worth the expense or hassle. 


To use the words "Super Bowl" without going through the proper channels could lead to dire consequences. "The National Football League has serious restrictions on uses of these terms for advertising and they WILL pursue action against you if you violate these trademarked terms," said Joshua Sophy, Small Business Trends columnist. This is why you can't say "Super Bowl" in advertising. 


We (or our affiliates) and our member professional football clubs own all rights in the product names, company names, trade names, logos, product packaging and designs ("Trademarks") of the National Football League and such member clubs, and third parties own all Trademarks in their respective products or services, whether or not appearing in large print or with the trademark symbol. Unauthorized use of any such Trademarks, including reproduction, imitation, dilution or confusing or misleading uses, is prohibited under the trademark laws of the United States and other countries. You are expressly prohibited from using or misusing any Trademarks, except as expressly provided in this Agreement, and nothing otherwise stated or implied in the Services confers on you any license or right to do so. 
Each year the NFL Trademark team sends hundreds of cease-and-desist letters to establishments across the nation for using "Super Bowl" and other names. One such incident occurred in 2007 which prohibited a church congregation from hosting a large-scale Super Bowl party because they intended to charge admission, thus creating it an "official" event of the NFL. To avoid these easy-to-overlook pitfalls, businesses and organizations have begun to use other phrases to represent the event. 


Comedian Stephen Colbert coined the phrase "Superb Owl" after listening to a radio commercial about Planters nuts for the Super Bowl. The NFL's response was to try to convince the Trademark Board that this was a violation of their rights. Using euphemisms for the Super Bowl is the growing trend for getting around the legal issues of branding and trademarks. Most individuals opt for using terms like "Big Game" as a way to refer to the Super Bowl without having to shell out a hoard of money. However, to further cement their Intellectual Property Rights, the NFL tried to capitalize on the keywords "big game." Yet, in 2006, though the NFL filed for registration of the name "Big Game" with the U.S. Patent and Trademark Office, they were denied. Given the history of the NFL's pursuit to maintain their rights over the Intellectual Property Rights of their game, the teams, the players, and the merchandise it's a far safer route to use alternate phrases to represent your Super Bowl event.  As the New York Post journalist John Crudele suggests, "Here are my proposed alternatives: 'The Super Game,' … 'The Supper Bowl.' Or my favorite: 'The Game That Advertisers Dare Not Name.'' Whichever fun name you come up with just make sure to carefully abide by the trademark guidelines and above all else avoid "Super Bowl" branding.