By Web Launch Local | May 16, 2018 | Leave a comment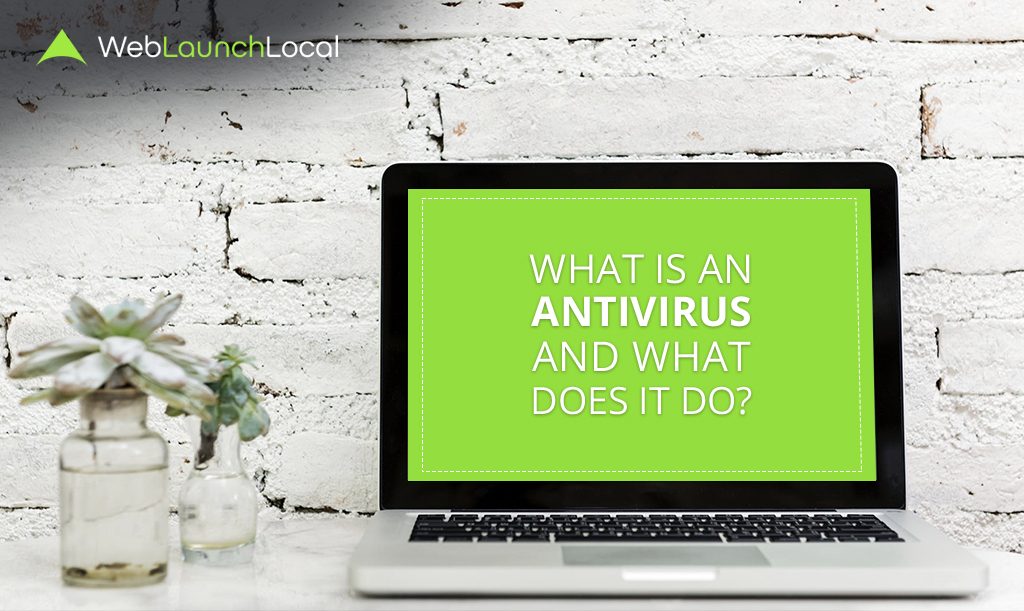 Since the late 1980s, the antivirus software has evolved along with the threats. As a result, today's defenses against threats to your computer are more sophisticated than just a list of viruses out there. Now, antivirus technology is more focused on your behavior and encryption methods.
What is an Antivirus?
Antivirus software is meant to detect, prevent, and remove malicious software (malware) from your computer. The classification of malware includes viruses, worms, trojans, and scareware, as well as (depending on the scanner) some forms of potentially unwanted programs (such as adware and spyware).
Without this antivirus software, your computer will be infected with malware within minutes of using the internet. The attack is relentless, and antivirus companies update their detection tools regularly to fight more than 60,000 pieces of malware created daily.
What does an antivirus do and how does antivirus software work?
Although specifications may vary between packages, antivirus software scans files or your computer's memory for specific patterns that may indicate the presence of malicious software or malware.
Antivirus software (or anti-malware sometimes) look for patterns based on the signatures or definitions of known malware. Antivirus vendors find new and updated malware daily, so it is vital that you have the latest updates installed on your computer.
Various companies build and offer antivirus software. What each does can vary, but all can perform some primary roles:
Scan specific files for any malware or malicious patterns.

Schedule scans to run for you automatically.

Remove any malicious code detected –sometimes you will be notified of an infection and asked if you want to clean the file, other programs will automatically do this behind the scenes.

Initiate a scan of a particular file or your entire computer or even a flash drive at any time.

Show you the 'health' of your computer.
Which software should you use?
Many vendors provide antivirus software and deciding which one can be confusing. All usually perform the same types of functions, so your decision might be affected by particular features, recommendations, price and of course, the availability. No matter which package you choose, installing any antivirus software will give you tons of protection against threats.
How do you get the current malware information?
Many antivirus packages include an option to receive updated malware definitions automatically. Because new information is frequently added, it's a great idea to take advantage of this option.
Don't believe in emails or ads online claiming that the "most dangerous malware ever" has been detected and will destroy your computer's hard drive. These are likely hoaxes. You can confirm malware information through your antivirus vendor or resources offered by other antivirus vendors.
Antivirus software is one of the most natural and most effective ways to protect your computer, but it has limitations. Because it relies on signatures, antivirus software can only detect malware that has known characteristics.
It is essential to keep these signatures up-to-date. You will still be susceptible to malware that circulates before the antivirus vendors add their names, so take extra safety precautions as well.
Types of Antivirus Software List
Antivirus software is distributed in many forms, including stand-alone antivirus scanners and internet security suites that offer antivirus protection, along with firewalls, privacy controls, and other security protections.
Some antivirus software vendors offer basic versions of their products at no charge. These free versions generally provide basic antivirus and spyware protection, but more advanced features and protections are usually available only to paying customers.
While some operating systems are targeted more frequently by virus developers, antivirus software is available for most OS:
Windows antivirus software.
Most antivirus software vendors offer several levels of Windows products at different price points, starting with free versions providing only necessary protection. With this, users must start scans and updates manually, and free versions of antivirus software won't protect your computer against links to malicious websites or malicious attachments in emails.
Premium versions of antivirus software frequently include extra features that might provide security to online storage, ad blockers, and file encryption. Since 2004, Microsoft has been offering some free antivirus software as part of the Windows operating system itself, generally under the name Windows Defender, though the software was mostly limited to detecting spyware before 2006.
MacOS antivirus software.
Although macOS viruses exist, they're less common than Windows viruses, so antivirus products for macOS are less standardized than those for Windows. There are some free and paid products available, providing on-demand tools to protect against potential malware threats through full-system malware scans and the ability to sift through specific email threads, attachments, and various web activities.
Android antivirus software.
Android is the world's most famous mobile operating system and is installed on more mobile devices than any other OS. Because most mobile malware targets Android, experts recommend all Android device users install antivirus software on their machines.
Why do you need to install an antivirus software on your computer?
There will never be a time when people, whether mischievous youths are seeking a thrill or hardened cybercriminals looking to exploit billion-dollar companies, will stop looking to find ways to commit fraud, cause widespread damage, or experience the rush of breaking into a computer.
Antivirus software is a valuable tool to help prevent such attacks. Not every type of cyber-attack can be avoided with antivirus software, but it can be a great asset when trying to prevent invasion into a computer.
Although not every intrusion into a computer is meant to cause damage or steal valuable information, that doesn't mean that the attack isn't dangerous. Even the weakest of an intrusion exploits a vulnerability, and it sends a signal to others that this computer has been infiltrated. This opens an opportunity for a worse attack.
If you're looking for antivirus software, make sure to buy a well known and trusted brand, subscription-based program. This is important, as the makers of this type of software will be able to keep their subscribers' computers guarded with real-time updates that scout out the latest threats. You can also seek and hire a professional digital marketing agency to help you out!
Tags: how does antivirus software work, types of antivirus software list