By Web Launch Local | May 6, 2019 | Leave a comment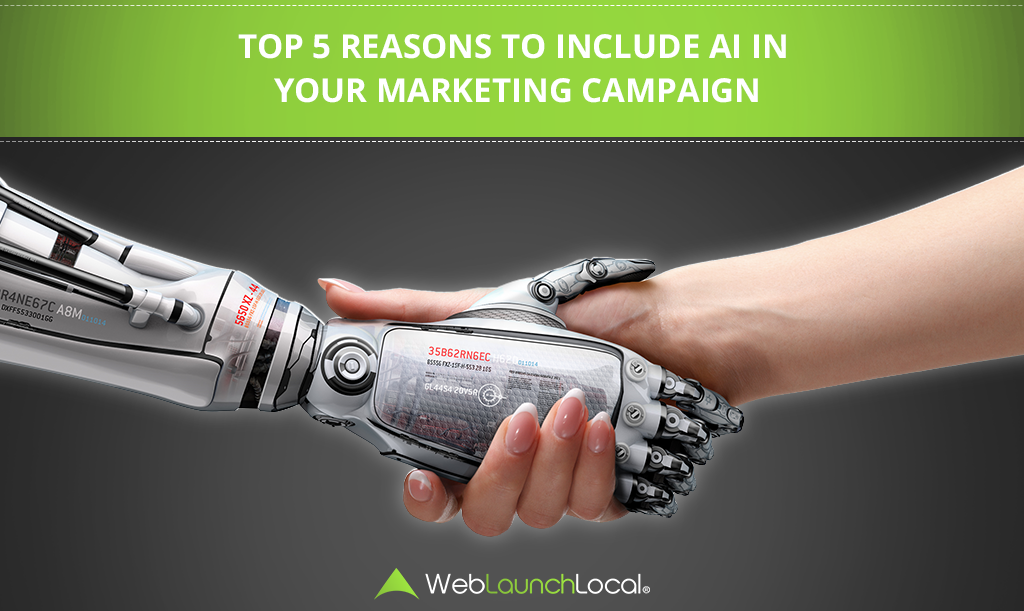 Digital marketers rejoice! We're at the beginning of the AI revolution in the marketing field, and instead of fearing or resisting change, we should all be embracing the many, many applications it can have. They are able to be chatbots, do predictive analytics and reporting, insights integration and behavioral analysis, just to name a few functions. Even content curation and generation will be affected by it, so you should be thinking on how to adopt AI into your business.

But how is AI changing digital marketing, really? Many professionals are already predicting that artificial intelligence and machine learning will be the most important aspects of the job in the following years, so reading about their benefits will help you change your mind on it if you haven't already. Without further ado, here are the X best uses for AI that we see blossoming in the near future.

Improved Personalized Interaction
From being a simple trend last year to an important and promising part of branded online interaction in 2019, the next year we'll see AI-driven messages flourish to their full potential. AI gives professionals the chance to tailor every individual message to a customer's location, demographic and particular interests, and the numbers show that people are actually in favor of this change. Accenture, a consulting firm, found that almost 50% of customers prefer to do business with companies that offer a personalized experience, while 40% switched brands in 2017 when those expectations weren't met.

Predict customer behavior
Like we just said, AI can personalize a client's experience based on their past behavior, but it will also be able to create a "future behaviour" profile for people. Second and third-party data can be collected from across the internet to create such a profile, allowing you to engage with new customers from the get-go, making the act of targeting your preferred leads much easier. This process will only get more efficient as time goes one, creating a richer and more accurate customer journey for every user.
Save money and time with automated processes
There are still plenty of areas in marketing were humans excel over AI, so why not focus all your attention on them and let computers take care of the rest? Automating entire processes, including decision-making and content creation/curation can save you all the time to need for creating new strategies, dealing with customers face to face, and increase your overall productivity by picking up some of the slack of repetitive tasks.

Minimize data errors
Data processing is a breeze when handled by the right AI-powered software, and you don't even have to worry about mistakes! That's because humans, while still better than machines for most jobs, are prone to making mistakes on repetitive tasks, especially when handling lots of data; when an AI gets a customer's name right, it will always get it right. It also helps eliminate user bias when making predictions around user data, focusing instead entirely on the numbers available, making data-backed predictions and letting you choose what to do with the resulting information.
Lead generation and recruiting
Agonizing over the gargantuan amounts of data that you have to go through to create a new buyer persona or find desirable leads is now a thing of the past since a powerful enough AI can go through these in a flash and provide excellent results at the end. The same goes for recruiting people for your company. You might argue that choosing a co-worker or employee is still a delicate process that should be done face-to-face, but you can run background checks, dig up information from past employers and more with AI.
These are only some of the many parts on the job of a digital marketer that AIs can handle, but it doesn't stop there; knowing how they can help you is only the first step towards adopting these emerging technologies and get all the benefits you can from them. If you want to learn how AI is changing the future of digital marketing and you need help choosing, you can still trust the very human minds of professionals.