By Web Launch Local | January 7, 2019 | Leave a comment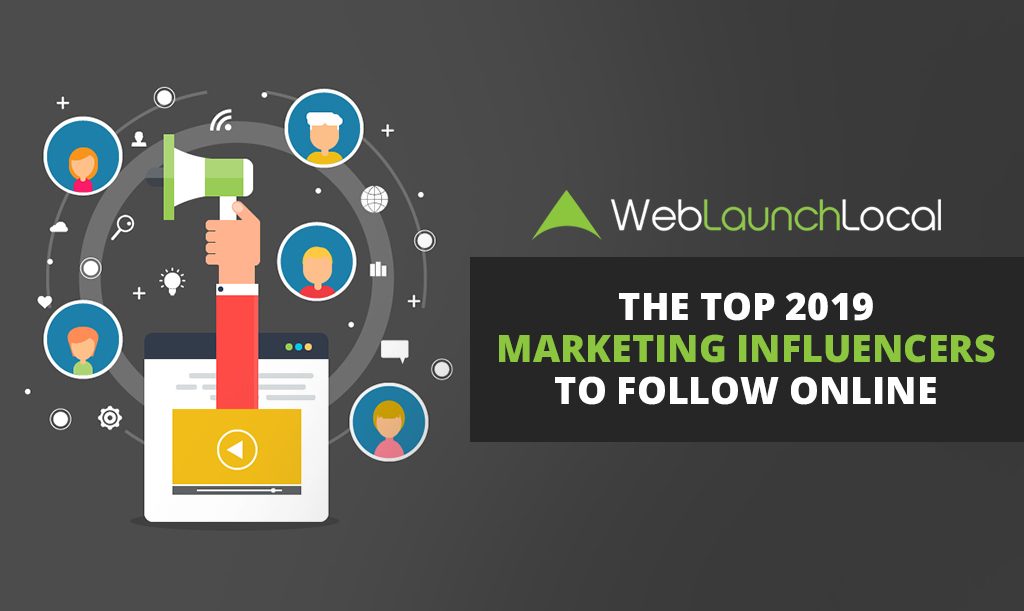 The core value of an influencer lies in their ability to alter brand perceptions, loyalty and get the ball rolling for new customer behaviors, all through human interaction that addresses the issues that people in the consumer base really care about.

There are top digital marketing influencers out there to count, which is good! That means that you can narrow them down according to popularity, achievements, followers, specialty. Or whatever parameters you consider relevant to your goals.

Here are the ones we consider to be the top marketing-oriented influencers you should follow this 2019:
Neil Patel
Neil Patel has been labeled one of the top 10 online marketers by Forbes. He's a leader in SEO education and practices, content marketing and e-commerce (and many more) who posts great resources each day. Aside from being New York Times bestselling author, he's a co-founder of successful businesses like Crazy Egg and KISSmetrics. His business and internet savvy has helped businesses like Amazon, NBC, and GM to grow.

Follow him @neilpatel on Twitter.

Ann Handley
Ann Handley is a digital marketing writer, speaker, and the founder of MarketingProf. A company that offers educational opportunities to marketers of all levels worldwide. She is also the bestselling author of books on the subject of content creation and publishing that have been translated into more than ten languages. Achievements aside, Anne is an inspiring figure in marketing who wages "a war on mediocre content." Her newsletter is a great place to start.

Follow her @annhandley on Twitter.
Rand Fishkin
One of the most recognizable voices (and mustaches) in SEO marketing, Rand Fishkin still has a big impact on search marketers across the globe. Thanks to MOZ, a company he co-founded before his current project. SparkToro, which in turn is a project dedicated to helping others understand their target audiences and delivering on promises to them. Another popular venture of his, inbound.org (now growth.org) provided different content marketing opportunities. There's power in the mustache.

Follow him @randfish on Twitter.

Larry Kim
A promising name to follow in 2019, Larry Kim is the CEO of two influential companies in digital marketing: MobileMonkey Inc., which is the leading marketing platform in Facebook Messenger, and Wordstream, which is a leading provider in keyword research. Kim is also one of the foremost experts in Google Ads, Facebook Ads, and Startups. As well as being ranked the #8 most popular author on Medium.

Follow him @larrykim on Twitter.

Joe Pulizzi
A master entrepreneur, Joe Pulizzi has helped many different successful startups to take their first steps in the right direction. The Content Marketing Institute, his most successful project, educates brands about marketing and audiences, and his blog offers great resources for people interested in content creation. Not only that, but he's also a top-rated podcaster, speaker, and author of bestselling books Content Inc, Killing Marketing, and Epic Content Marketing.

Follow him @JoePulizzi on Twitter
Lilach Bullock
Lilach Bullock, listed by Forbes as one of the Top 20 Women Social Media Influencers, and Career Experts named her the #1 Digital Marketing Influencer. Titles she defends with her expertise on content marketing, coaching, sales funnels, and website conversions. Her website, lilachbullock.com, includes many guides and tools to build a strong online presence and should prove a very valuable ally to any aspiring or mid-level marketer trying to do things outside the box.

Follow him @lilachbullock on Twitter.

Pam Moore
Pam Moore's consulting agency, for which she is CEO and co-founder. Specializes in conversion optimization using digital methods, but she's truly a Swiss army knife of many forms of marketing. Aside from her agency work, she does corporate training, business strategies, brand development, personal branding, and custom marketing workshops. An all-around force in the industry to follow in 2019.
Follow him @PamMktgNut on Twitter
Tags: social media influencers, top digital marketing influencers