By Web Launch Local | December 17, 2018 | Leave a comment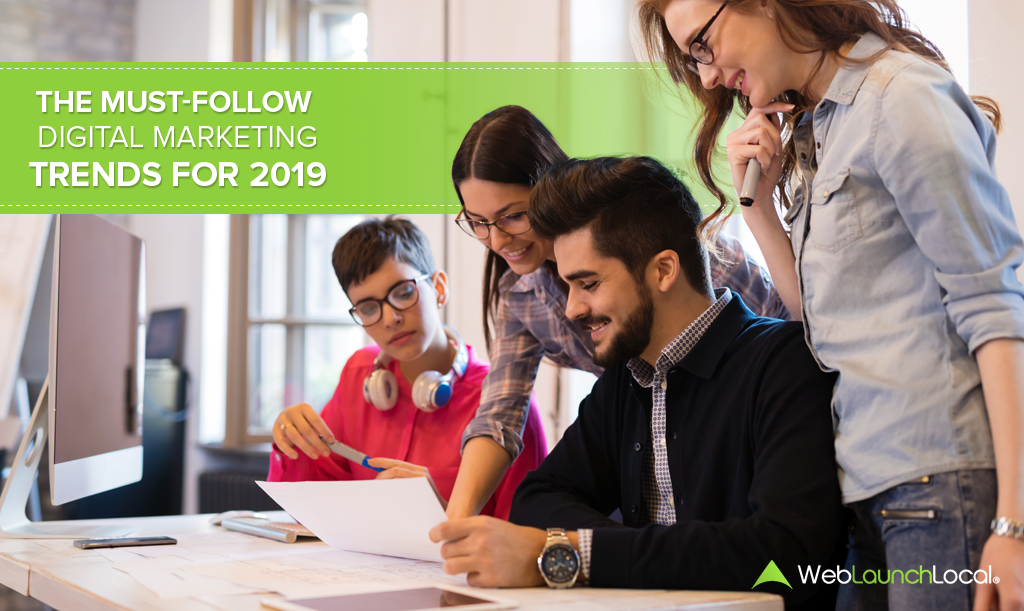 If you think 2019 might be too late for you to get into the digital marketing game, we're happy to say that it has never been easier for you to jump in and gain traction for your business. This is especially true when following the right trends and applying them sensibly to your strategy, and having a little help can go a long way.
Just follow these top digital marketing trends for 2019 and watch your numbers grow!
1. It's time to go visual, very visual
Video has been one of the most effective forms of social media content for a couple of years now, but experts predict that by next year, 80% of all that we consume on the internet will be video. That means that to even have a presence in people's social media platforms, you have to not only create engaging visual content but content that builds a relationship with your audience fast.
2. Betting on live transmissions
Few things feel as genuine to a potential customer than a live video because it offers them a chance to interact directly with your content. The catch is that your content should be engaging before you even consider going live, so don't just take any opportunity to broadcast a few minutes of anything with very little payoff; your audience will appreciate the effort put into your event, even if it has some very humanizing mistakes.
3. Audience participation will make or break your strategy
Gone are the days when creating social media content was a passive affair. Leave the regular, information-heavy announcements for your established customer base, and focus on creating content that invites participation, discussion or even remixing. Polls, Q&A's, Photoshop contests, anything that will stop people from scrolling and makes them interact with your brand is golden.
4. Welcome our new AI-based brand-manager overlords
Adopting AI solutions for our platforms is far from the hyper-futuristic concept it once looked like. Now they're our best allies to enhance customer interaction, especially in a time when "being there" is less an added benefit and more of a requirement for our brands. Their rise has been meteoric and their convenience, when correctly used, is undeniable. From dealing with frequently asked questions to making appointments, you will want to get in on the action if your business is big enough.
5. The rise of IGTV and vertical video
It's time to stop thinking of YouTube and Facebook as the end-all, be-all of internet-based video content. The rapid success of IGTV as a platform for vertical novelty videos (which can last up to an hour) offers a great opportunity to amplify your brand's social interaction, especially if your business has a lot of potential customers in the younger demographics.
6. E-Commerce
If 2018's Black Friday taught us anything is that more people are shopping from their phones than ever. This means that if you have online sales (or you have the potential for it but haven't exploited it), then right now is the perfect time to build a safe, easy-to-use mobile platform that your customers can use to shop directly from you.
As you can see, the social media trends of 2019 will all be based on changing the playing field, as competition is fiercer than ever, but the chance to make lasting impressions on people and earning their trust is also higher than it's ever been. Make good use of them!
Tags: social media trends 2019, top digital marketing trends 2019