By Web Launch Local | April 2, 2018 | Leave a comment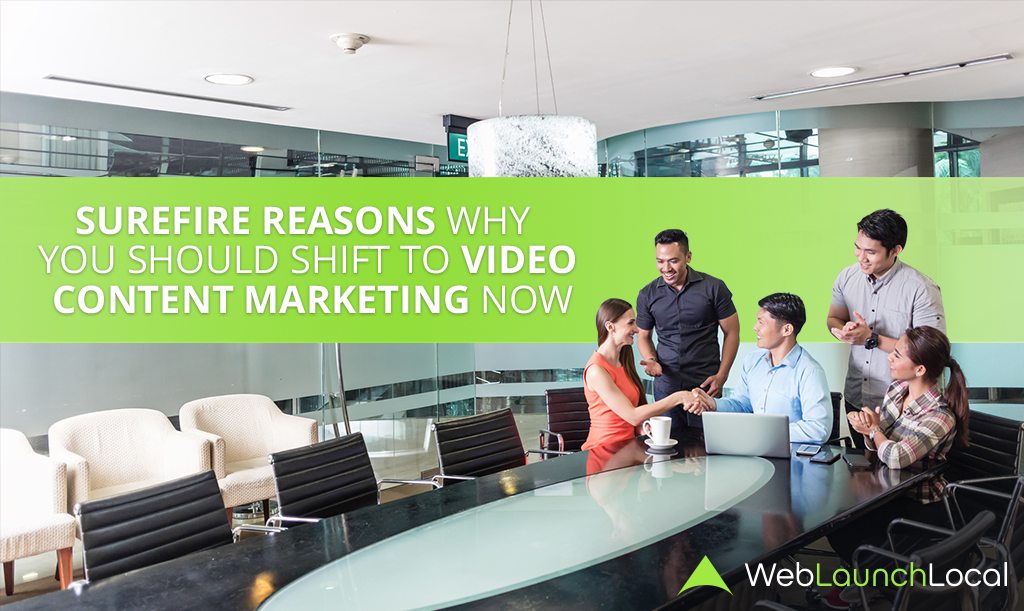 They always say that a picture is worth a thousand words–a single image can tell a story better than a thousand written words can.
Now, imagine the worth of about 40 images per second equipped with narration and sound effects.  Wouldn't that hook up a lot of audiences and make a better storyteller?
The Power of Video Content Marketing Strategy
Did you know that YouTube is the world's second biggest search engine behind Google? Having over a billion users–equal to more or less a third of all people on the internet–it's no surprise that they achieve one of the top spots. Pretty impressive, right?
The point of this information is not to promote YouTube or anything else, but to prove that a lot of people would rather watch videos.  Therefore the concept that video had evolved to be one powerful marketing tools is a trend that you should be looking into now.
According to statistics, about 60% of businesses have engaged in video content marketing and out of that number, 82% claim that this marketing strategy is vital for the promotion of their enterprises. To top it off, 83% of those owners say that video marketing gives them a significant increase in ROI.
Five Top Reasons to Opt for

Video Content Strategy
#1. Videos make great boosts in conversions and sales.
It's a known fact that our most dominant sense is our sense of sight. Majority of the information transmitted to our brains is visual. Thus, if images alone can boost customer engagement considerably, imagine what moving pictures can do more to your business.
With this in effect, videos can help you make serious money. For example, placing a product video on a landing page can increase your conversions by about 80%. Not to mention, it can also lead directly to more sales! Some studies show that 74% of users who watched an info-video about a product had bought it. Better prep for those videos now!
#2. Videos are great trust-builders.
Trust is the foundation of any relationship. And the use of audiovisuals helps strengthen this foundation because the audience appreciates the effort of making videos to capture their attention. It builds an impression that the business is indeed reliable and it cares about its image and market.
There is recorded statistics that 57% of customers say that videos give them more confidence to buy products online. That's why a lot of businesses make an effort to have promotional videos because some consumers are very skeptical about purchasing anything on the internet. Their fear is that they will be cheated.
#3. Videos can reach even the laziest of buyers.
For this moment, try to think like a consumer. Would you rather read a long-page description of a product or watch a minute-long video explaining the same? A video is an excellent learning tool while it's also easy to watch.
The best part about video marketing is its wide range of captured audiences. It's fast, loaded with information, and if combined with social media platforms, it can reach up to millions of people in no time–reaching even those reluctant customers too! Make sure to target not only their eyes but also the ears of your potential clients!
#4. Videos can explain anything.
Trying hard to explain a mind-boggling concept? Create an animated video. The power of animation can bring rocket science theories to life that no text, image, or even a  live video can. People are not into boring talking heads anymore and will most probably not finish those type of videos anyway. Animations are a combination of simplicity, nostalgia, and entertainment.
Going to launch a new product or service? Shoot an explainer video to demonstrate how it works. It might seem like a lot of extra work because it is, but give it a try to see how amazingly effective they are!
#5. Videos are loved by Google.
If you have plenty of videos on your site, then the time spent by visitors on your site will substantially increase. In effect, aside from the trust built, it can signal search engines that your website has good content.
Another fact that you should consider: you're 53 times more likely to be placed on Google's search pages if you have an embedded video on your site. Since Google now owns YouTube, so videos have a significant impact on how your search engine rank increases.
Video Content Marketing Example Done Right
The Dollar Shave Club–
Our Blades Are Great!
This video of Dollar Shave Club had already garnered over 24 million views. Yes, you read the numbers right! Did you wonder why it's effective? Here goes:
In the world of marketing, putting a face to a brand is something customers want to see. In this case, it's Dollar Shave Club's founder, Michael Dubin. Employees can have up to ten times as many followers on social media platforms as the businesses they work for. Also, the content they share receives as much as eight times the engagement. Simply stated, audiences like it when the people behind a brand advocate for it.
That concept is exactly what our videos do. Customers know how busy and time-laden executives and founders are. So how can they make the time to appear in these videos? Simple. They make it part of their schedules. It's important for consumers to know that even the highest levels of management believe in the product or services they promote.
Today, video content marketing isn't a trend that you should think twice about before joining in,  but an imperative thing to include in your marketing strategy. As technology evolves, so does the behavior of your customers. You wouldn't want to get left behind the competition, right?
All these and more brought to you by Web Launch Local!
Tags: advantages and disadvantages of video advertising, pros and cons of video marketing