By Web Launch Local | June 1, 2018 | Leave a comment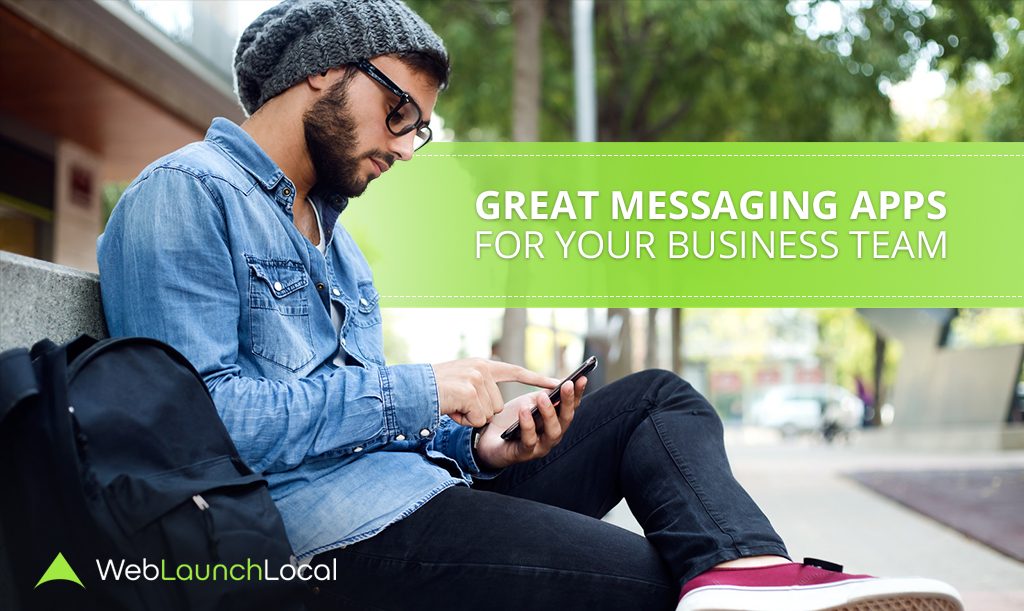 For any type or part of a business, communication is a critical element to success. A smooth and clear communication platform is needed to stay in touch with the employees, external and internal users and transmit messages quickly and effectively.
It can sometimes be frustrating to use too many separate emails, conference calls and text messages for company interactions. Therefore a lot of business messaging apps have recently seen a boom in the market and became a popular means of effective communication.
These apps can easily be used on a desktop computer, laptop, or even in mobile phones. They come in handy whenever and wherever you are!
Here are the top choices of the best secure messaging app for your business team.

Slack–
for a chat powered workplace.
Slack was launched in mid-2013 by the same people behind Flickr. It is a well-known business messaging app compatible with Windows, Android, iOS, Linux, Mac, and Web. It has a built-in Slackbot feature that can remind you of anything you need to.
You can send a message or make a call to anyone in the team, edit documents, and share files. You can also easily pass on relevant information and manage your to-do list using the Slack app. Not only that, but its conversation tools can turn any message into a mini-channel about that topic!
Flock–
for quick decision making in chat.
If you need to make fast decisions over chats, then Flock is the ideal messaging app for you and your team. It allows you to conduct polls, connect to your team via chats and video calls, set reminders, and manage to-do lists. All these features to enhance the efficiency, productivity, and speed of its users.
The app can easily connect to Google Drive for sharing files, and can also be integrated with other apps like Twitter, Trello, GitHub, and Hubot. Another neat trick that you can do is to reply to someone's message, and Flock will quote what others said–just like a forum.
Stride–
for making chats into to-dos.
From the creators of Hipchat comes Stride–your best friend in turning your team's chat into a simple to-do list. It is designed to get everything done from chat because it's easy about talking about those things virtually but never arriving at a decision.
You can choose any message and delegate it as a task from you chat sidebar. Also, don't forget to check out the 'Decisions' option to mark all the conversations as complete so everyone on the team will be informed that nothing else needs to be done.
Google Hangouts Chat–
for following up on conversations.
Google Hangouts Chat comes as a companion with Google's Hangouts video chat. If your entire team uses other G Suite apps, then everyone automatically gets access. You can create rooms and invite team members, but it's not shared by default.
You can suggest ideas in new conversations or follow up on much older ones as a response to current discussions. This way, everything is in focus. You can also share Google Docs, Slides, and Sheets in the app.
Chatwork–
for chatting across various teams.
If you want to chat and deal with people inside and outside your business, Chatwork will make it easier for you to do just that! It is a social office messenger that lets you go to any group conversation without missing out.
Just complete the process of setting up an account with your contact details and a Chatwork ID so anyone can add you to their chats. Chatwork also consolidates all messages that you were cited in and had a to-do list to take care of every actionable message from each conversation.
Get in the loop with all your business team members and be efficient in quick decision making! These business messaging apps can help everyone be updated and informed of anything they need to know. Start downloading these messaging apps for free, now presented to you by Web Launch Local!
Tags: best secure messaging app, business messaging apps, free instant messaging apps, messaging apps for free