By Web Launch Local | May 1, 2018 | Leave a comment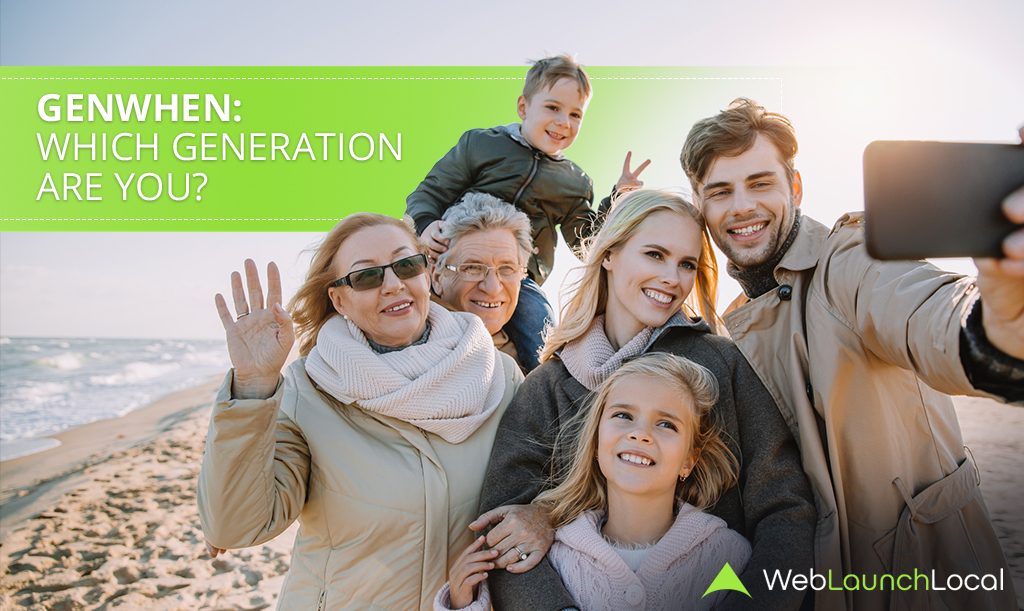 You may probably have heard other people use the terms 'Millennial' and 'Generation Z' interchangeably to refer to themselves as part of that group. Or maybe you, yourself had said it. Digging deeper into that matter, those jargons are NOT the same thing.
With the various cohort labels existing like Generations X, Y, and Z, people are now getting muddled up with these letters and sometimes have them all mixed up. Therefore, it's essential to take a closer look at each group's demographics and other facts–to save yourself from jumbling them up in the future!
Focus on the Birth Year, Not the Current Age
Age is usually the primary source of confusion when it comes to labeling each generation. It should be clear that generation timeline cohorts are grouped by year of birth, not current age. The reason behind? Simple. Along with how people age, their lifestyle also changes. Regardless of age, remember that you will always belong to the age generation timeline you were born into.
Don't Get Confused with the 'Alphabet Soup'
Then another question pops up, how did these cohorts end up being labeled with letters? Well, it started with Generation X (1965-1964). The group preceding this was called the Baby Boomers (1944-1964) during the time of post World War II when the Americans were enjoying their newfound prosperity.  
The generation after didn't have an evident cultural identifier. Hence the term Gen X, displaying the unknown characteristics that soon would be discovered. Yep, it's just like 'finding x' in math! So from there on, the alphabetized label started. Following Gen X was Gen Y, which due to cultural differences, was divided into two–Y.1 and Y.2–collectively known as 'Millennials.'
Last but not the least, Generation Z was born. People born in this group are deemed to be the youngest people on the planet. A lot of people see this as the end of the alphabet labels (literally), so some possible terms had appeared. Some are 'iGeneration,' 'Gen Tech,' and 'Post-Millennials.'
Learn Each Generation's Differences
Baby Boomers (1944-1964)
Baby boomers are the vast population increase that followed the Great Depression and World War II. Unlike their parents who were part of the Depression Era, Baby Boomers grew up in the absence of world wars and in a time of prosperity. They are great consumers and are famous for spending every dollar they earned.
When it comes to media consumption, they are still the highest users of traditional means like radio, televisions, magazines, and broadsheets. However, about 90% of them are active on Facebook.
Financially speaking, they still prefer going to a bank branch to make transactions than to do them online. They are experiencing the highest increase in student loan debts. They believe that you need to take good care of your children and set them on the right path, but never plan on leaving an inheritance.
They were the first generation to experience the time of unparalleled national optimism, the cold war, the Civil Rights Movement, the assassination of both JFK and Martin Luther King.
Gen X (1965-1979)
Generation X was initially called "Gen Bust" because their birth rate was immensely smaller than the former age group. It was also dubbed to be the "lost" batch and the first generation of "latchkey" children who were exposed to daycares and divorce.
This group still listens to the radio, reads newspapers and magazines, and watches TV for about 165 hours a month. They are also known to be digitally savvy and spend about 7 hours a week on Facebook.
For financial transactions, Gen X will opt for researching about financial management online since they are also techy. However, they would still go for in-person sales because they believe that banking is a personal business. They are currently raising a family, paying off student loans, and taking care of aging parents.
They were said to reach the highest level of education in the U.S. up to then. This generation also witnessed the rise of disco and MTV as well as the fall of the Berlin Wall and the splitting of the Soviet Union.
Gen Y/Echo Boomers/Millennials (1980-1994)
Gen Y is the most abundant generation group since the Baby Boomers. This cohort's kids are known to be extra sophisticated, tech-savvy and ethnically diverse. They are known to be less brand loyal and has a varied taste in fashion.
About 95% still watches TV, but streaming platforms such as Netflix and Amazon outweigh the traditional cable. They commonly have multiple social media accounts and are exceedingly comfortable with using mobile phones although some still use computers for purchases.
Even though millennials are less loyal when it comes to brands, they still prefer to place their trust in established companies like Apple and Google. They are fans of online banking but are entering the workforce with a high-level amount of student debts.
Their generation existed during the hype of social media platforms, the 9/11 terrorist attack, the Enron Scam, widespread use of the internet, and the Great Recession.
Gen Z/iGeneration/Post-Millennials/Gen Tech (1995-2015)
Generation Z is composed primarily of the kids of Gen X but can have millennial parents. At their early ages, they are already exposed to the digital world and social media platforms. They are more open-minded and tolerant regarding issues with sexual orientation, races, and various cultures.
At an average, Gen Z children had received their first mobile devices at ten years old. A lot of them grew up using their parents' gadgets. They spend at least three hours fidgeting their mobile phones daily.
Post-millennials aim to avoid debts and patronize services or accounts that aid in that effort. They are starting to learn more about personal finance. They strive to have a strong foundation in financial education and are opening a savings account at earlier ages than the previous generations.
The Importance of Identifying the Different Generational Cohorts
Being able to tell each age group apart is essential, especially for marketers. It's also critical to point out that aligning your marketing strategy on your audience's age can get complicated quickly. Having your tactics based on the phase of their lives will help you convey your message to the target group you want to attract.
And remember, you always can seek the help of a professional digital marketing agency for your marketing needs!