By Web Launch Local | January 21, 2019 | Leave a comment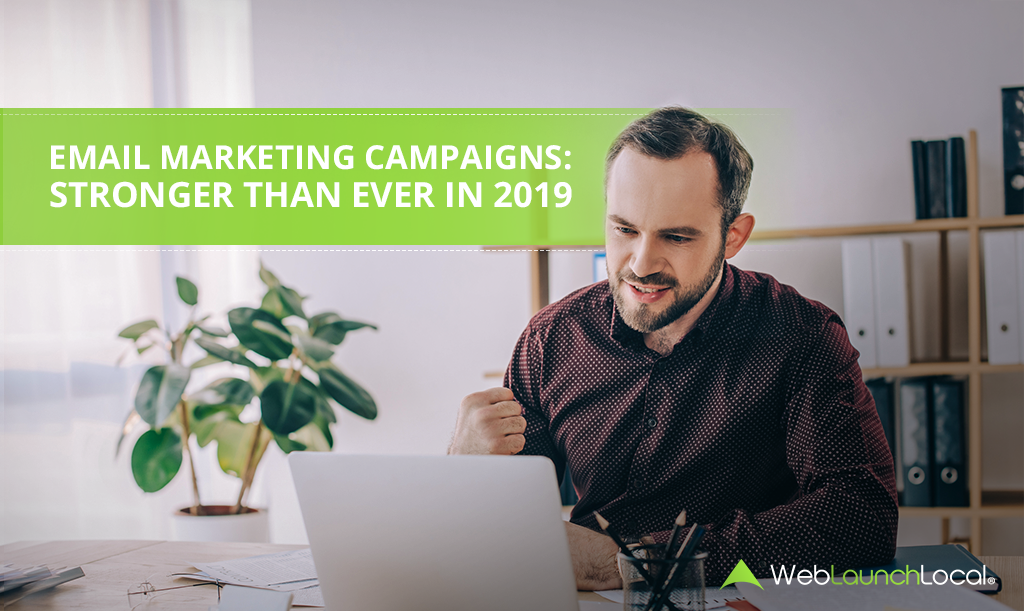 With so many digital marketing options available to business nowadays, regardless of what branch they're in, it's easy to dismiss older methods as irrelevant or no longer efficient. Older does not mean obsolete, however, and we're here to make a case for email's effectiveness in today's marketing landscape.
Many professionals share the opinion that these email campaigns are no longer effective, but fail to notice (or mention) that these failures are ultimately dependent on the content of the email and whether or not it's interesting to the reader. Here are the top reasons why you should keep using them, and some tips on how to improve their results.
Social media is powerful, but email is an internet mainstay
While social media numbers grow exponentially each year, that massive size is precisely why email can still go toe-to-toe with them. Aside from the self-filtering of content that goes on constantly on social media, it's very, very hard to separate the "social" from the "media" aspect; people hold their profiles as still an extension of their own personae, so they won't appreciate being invaded by ads, offers, and targeted messages.
Email, on the other hand, has always been perceived as more of a work tool, and therefore people don't mind getting these campaigns. According to one study by McKinsey & Company, email marketing can be up to 40 times more effective than social media, and the buying process on the first happens three times faster than on the latter, which leaves email marketing statistics always looking stronger than their social media counterparts.
A survey conducted by the Channel Preferences Survey showed that most people prefer to get business information on their email inbox. To drive the point further, The Radicati Group predicts that the number of email users will grow to 3 billion people worldwide by 2020. That's over 90% of internet users.
The form does not limit the content with email campaigns
Now that we've seen how people's preferences give email campaigns a big advantage, let's talk about form and content. Going back to social media and the issue of self-filtering, the opportunity to be seen is constantly being modified and reduced by social media companies trying to keep users happy, meaning that companies are constantly pushed to modify, reduce and censor their own content so as not to affect their chances to be seen.
This translates to a more minimalistic approach towards design and the amount of information that you're giving to people about your brand and products just to avoid limiting your audience. While a good incentive for creativity, this affects how well people really know your business and what you're offering.
On the other hand, email campaigns, while not bloated, are more effective in delivering a larger amount of information to people that will care most for it, rather than turning into a competition of who can turn the most heads for the day.

Have a clear purpose for them


It's not all about email vs social media statistics, however, as there are many strategies that you can mold an email campaign around, and you should keep that in mind if you aim to make it a successful one. They are as following:
Commercial: These are intended to foster impulse buys, should be used to announce recent promotions or push new products, and are therefore considered to be the most traditional type of campaign out there.
Informational: These don't try to get sales, but to inform your customers about your next step as a company, as long as it pertains to their interests, and even to get feedback on a service or product of yours that they might have come in contact with.
Location: Simply put, you tell the recipients of this email where your physical store is, or the location of a future event. This can be followed by an invitation to a sale or a promotion to make a visit more appealing for them.
Loyalty: Boosting up your relationship with your customers is basic in order to retain them, and these campaigns aim to promote just that, so to generate sales or brand recognition.
The key is to know which type better compliments your main strategy and how you can make it fit with your other efforts. Have a big sale coming up? A location email is due. Had a PR crisis recently? A loyalty email explaining the situation and even offering an apology could help.
Remember that an email campaign, despite being an effective and easy-to-monitor tool, is only as good as the information you get from it. Variables that you can measure are the open rate, click rate, how many people choose to visit your website, how many people respond, etc.
Finally, while effective on their own, these campaigns will yield better results when paired with other forms of digital marketing, email marketing vs social media statistics, depending on your main goal, and it's better to know what your options are and how you can combine them before making a decision.
Tags: email marketing statistics, email marketing vs social media statistics