By Web Launch Local | September 3, 2018 | Leave a comment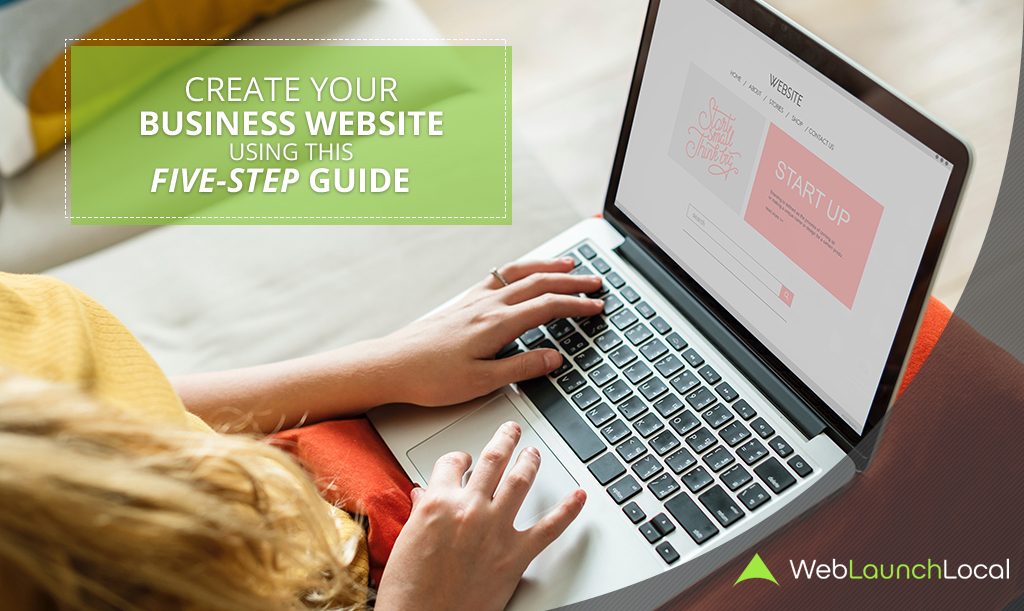 If you own a business –big or small– and you don't have a website yet, then you should consider getting one.
Why do you ask? Well, to tell you the truth you can't afford to have one. In today's competitive online world, establishing a strong presence through your website is indeed a necessity.
Gone are those days when you depend solely on word-of-mouth and Yellow Pages for marketing. Although these 'old school' methods can still be effective to a particular extent, building a website to your business complements other ways of attracting potential customers.
Creating a business website isn't as hard as you think it is. Use this five-step guide to walk you through the whole process. And at the end of it, we guarantee that you'll be rocking that website as soon as possible!
Getting Started in Creating a Website for your Business
Step #1. Choose a domain name.
Your domain name is like your home address on the internet. For most businesses, it's usually the company's name itself that they use as their domain name, like walmart.com for example. It's up to you if you want to have it that way or if you want to include short phrases that are related to the industry you are in. As long as it's not taken, go ahead and get creative.
Take note that you need to pay about $10 to $12 for your domain name, and the same price range to keep it registered every year. In case someone already owns the name that you want, you'll need to think of a new one or if possible, reach out to the owner and buy it from him or her.
Step #2. Set up a personalized business email address.
If you want to make your business look more established and professional, you need to set up a customized business email address. Think about it; you don't want your customers and clients see that you're using a Gmail email address like johndoe@gmail.com and let them think you're not fully established. It may come off judgmental, but it's just typical human nature to make these quick observations when thinking about hiring a service.
The standard business email address format uses your company's domain name. You can use the template yourname@yourwebsiteaddress.com or whatever you like. Setting up a personalized business email is not even close to rocket science. Learn more about G Suite, for example, to help you get started!
Step #3. Select a Business Website Builder.
This step is considered to be one of the most critical when it comes to building your website. Choosing the right website builder software depends upon your site's needs. And when you do, the process that you thought was like climbing the Mount Everest will turn out to be just a walk in the park!
There are a lot of website builders to choose from such as WordPress, Wix, and more. Each has its own ups and downs, so make sure the one you pick will satisfy what you envision your website to be!
Step #4. Design a Website Template
A web design template is a ready-made custom design that you can simply add to your site to create an instant professional-looking website without paying the additional cost of hiring a designer.
But if you have a budget allocated for this aspect, you can hire a web designer and make your dream website a reality! Just think of it as the clothing you want your company's site to wear. What kind of style would attract more customers?
Step #5. Create Useful and Effective Content
Now you've got a fantastic website with a compelling design template. But what's missing? Your content, of course! Take the time to post content that visitors will find exciting and attracting. It need not be super long, just enough to provide all the information your users need!
Building your business a website doesn't need to be calculus-math-complicated. You have the choice to do it the complex way, or keep everything simple using the right tools following the right plan. You can also learn how to make a business website on your own for free!
Once you know what things to consider, the tasks to do, and the tools to use, creating a professional website is easier than you thought it was. But if you don't have the time to do it, why not hire a digital marketing agency to do the job for you or maintain your existing website?
It will be all worth it!
Tags: creating a website for your business, how to make a business website on your own for free