By Web Launch Local | June 16, 2018 | Leave a comment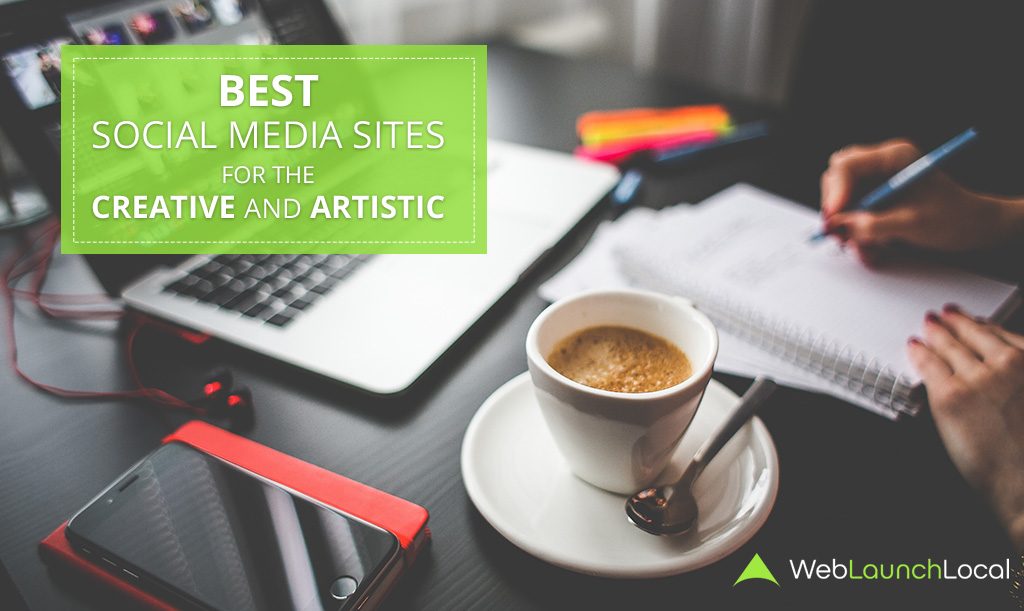 To most artists, creating is more than just a hobby for when they have free time to spare – it 's their profession. And artists are no longer at the mercy of fancy galleries and dealers to sell their pieces.
Today's world has transformed social media into a platform for creators to not only showcase their works but to also monetize off of them. So whether you want to show your craft to the world or earn something out of it, a network is all you need.
Here are the Top Creative Social Media Sites Perfect for Artsy People:
Facebook
Facebook has over a billion users from around the world, which makes it kind of hard to ignore. It's the primary platform many people now use to communicate with their friends and families. Therefore, your masterpiece can reach someone, somewhere in no time.
Aside from enjoying a broad audience of users, you can also join art groups that share everything from business tips to promoting your work. You can create photo albums of the work you're most proud of and easily get insights from your fans and another artist.
If you want to keep your personal life separate from business, you can create a Facebook page to allow you to post and interact with other users while maintaining a professional identity.
Twitter
Next to Facebook is Twitter. It's a great "serendipitous" machine because you'll never know what you'll find or who you'll meet when you start using it. If you are into blogging or creating any form of art, it's also a useful way to get your work into circulation.
In Twitter, you can use hashtags or keywords so people can discover your tweets. You can post links, photos, and videos and follow other people or organizations that are in the same profession as you are.
Pinterest
Pinterest is an online platform where users can pin (share) images with their followers. It's like a more visual Twitter. You can showcase your masterpiece and visual taste. You can organize each pin into a category–pretty much the classic mood board that you know of.
You're encouraged to pin all the work you're proud of so you can attract fellow users with the same taste. This will establish your name as an 'authoritative curator' of amazing visuals that can increase the odds of people checking out your work.
In this social media site, you can build an emotional connection and inspiration with your followers. There's also a feature where you can sell your art directly with buyable pins. Saving and organizing images and website links also come off handy in this one.
DeviantART
DeviantART, which started in 2000, is considered to be the world's largest online community for both artists and art lovers. It has over 22 million users with 65 monthly visitors and 2.5 billion monthly page views.
From visual to digital arts to calligraphy and written word styles, DeviantART covers it all and become one of the best social media sites for artists. You can share your craft and have it on sale through collections. It is indeed one of the top choices of creative people to display and sell their work online.
Behance
As its tagline says, Behance is the place where you can showcase and discover all sorts of artistic work. It aims to help organize the creative world. You can sign in with your Adobe account or create a new one.
You can put up a portfolio and organize each of your work through the project so visitors and potential buyers can easily browse through them. Behance displays how many users have seen your art, how many liked them, and how many left a comment.
Your creativity need not be confined to just you or some of your closest family and friends. It's meant to be showcased to the world! Have the confidence to do so, or even earn something out of it. The solution? Go to these social media sites, perfect for artists like you.
In case what you want is to put up your own website, have the best digital marketing agency build it up. You'll be good to go in no time!
Tags: creative social media sites, social media sites for artists