By Web Launch Local | December 3, 2018 | Leave a comment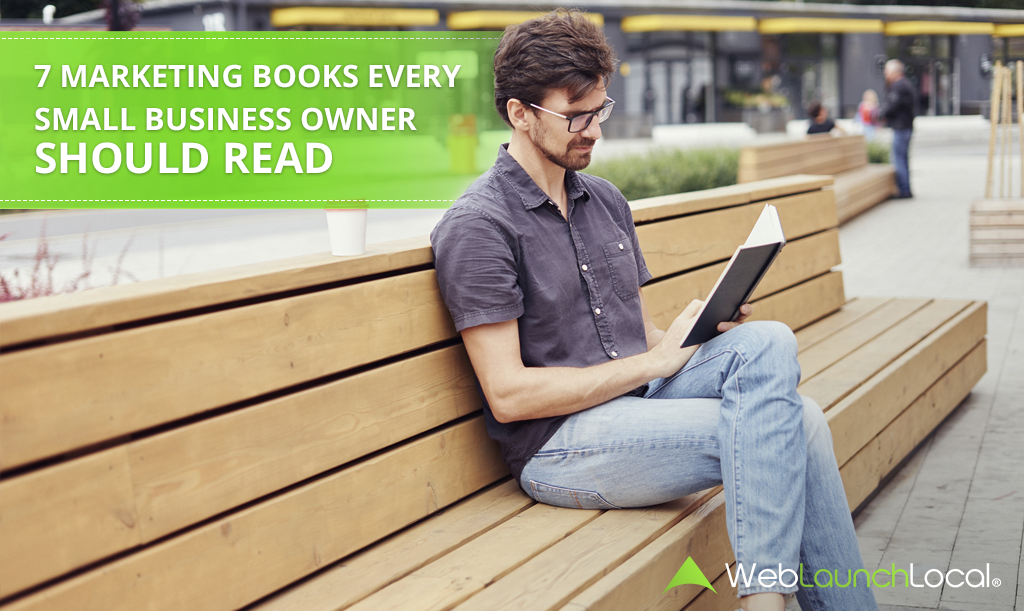 As a small business owner, you understand the importance of maintaining a good marketing plan, but you also might think that the scope of marketing books goes way past your own when it comes to strategies and tips. Well, nothing could be farther from the truth! These are the best marketing books for entrepreneurs who want to make their small business thrive without spending tons of money.

Every book mentioned on this list will provide you with a great wealth of information that you can use in your day-to-day business plans.
1. The New Rules of Marketing and PR: How to Use Social Media, Online Video, Mobile Applications, Blogs, News Releases, and Viral Marketing to Reach Buyers Directly – David Meerman Scott
Don't let this overly long title scare you. Meerman's book, already in its fifth edition, is an excellent introduction to modern marketing and PR techniques that will help you communicate with buyers and increase your visibility through very easy to follow, hands-on tips. This is especially useful considering how intimidating some of the more modern trends and tools in marketing can be for small-scale purposes, such as SEO and web design, but there are professional services just for that.


2. Think Big, Act Small – Jason Jennings
If on top of good ideas you also feel the need for a little inspiration, this is the book for you. Jennings presents and analyzes nine small companies and the way they managed to survive (and thrive) despite a fickle economy, all without shady practices or questionable, high-risk business gambles. More importantly, it earnestly explains how these examples can be applied to any company, regardless of the industry it belongs to.


3. The 1-Page Marketing Plan: Get New Customers, Make More Money, And Stand Out From The Crowd – Allan Dib
A marketing plan is necessary to achieve any kind of success in today's business landscape, but it might prove a challenging task for newcomers to come up with a solid, 30-page document for their own business without previous experience. This book explains the method for developing a one-page plan that will help you grow a customer base and fly past the competition. A valuable tool if you have no business plan at all.


4. The Ultimate Small Business Marketing Book – Dee Blick
Blick offers a much-appreciated blend of great tips, practical marketing tools, detailed case studies, and lots common sense advice for creating an effective marketing plan. It is an excellent choice both for people who are still inexperienced with marketing and for those who already have some practice or knowledge but want to tie it all together.

5. Predictable Prospecting: How to Radically Increase Your B2B Sales Pipeline – Marylou Tyler; Jeremy Donovan
If you have a B2B company, then you already know that marketing it is a wholly different beast from a B2C one. Not only is there a lot less fluff involved, but you also have to be able to target the right customer and be quick on your feet when closing deals. That's where the authors' answers feel like a breath of fresh air, giving you an honest insight into the mindset that will help you build a solid pipeline for your business.


6. Millionaire Marketing on a Shoestring Budget: How to Attract a Steady Stream of Happy Clients, Make More Money and Live Your Dream – Debra Jason
Aside from telling you how to find your path in business, Debra Jason provides valuable information for building cost-effective marketing strategies for when the budget is a concern. The fact that you can build up your business from almost nothing with hard work and the info presented in this book makes it a valuable ally all the way to the top.


7. Selling the invisible – Harry Beck
Selling products is one thing, but a service is harder to push on people. Harry Beckwith brings an original way of looking into prospect conversion and service marketing that is both insightful and practical. Using various easy-to-follow examples, this book proposes that any kind of service company can find and keep clients with enough work and understanding of their consumer base, all in an accessible style that invites you to keep on reading.
If you're looking for the best marketing books for beginners, then this list should prove a solid enough starting point for you, and allow you to confidently move onto more advanced literature as you identify your strengths and weaknesses.
Tags: best marketing books for beginners, best marketing books for entrepreneurs