By Web Launch Local | December 26, 2017 | Leave a comment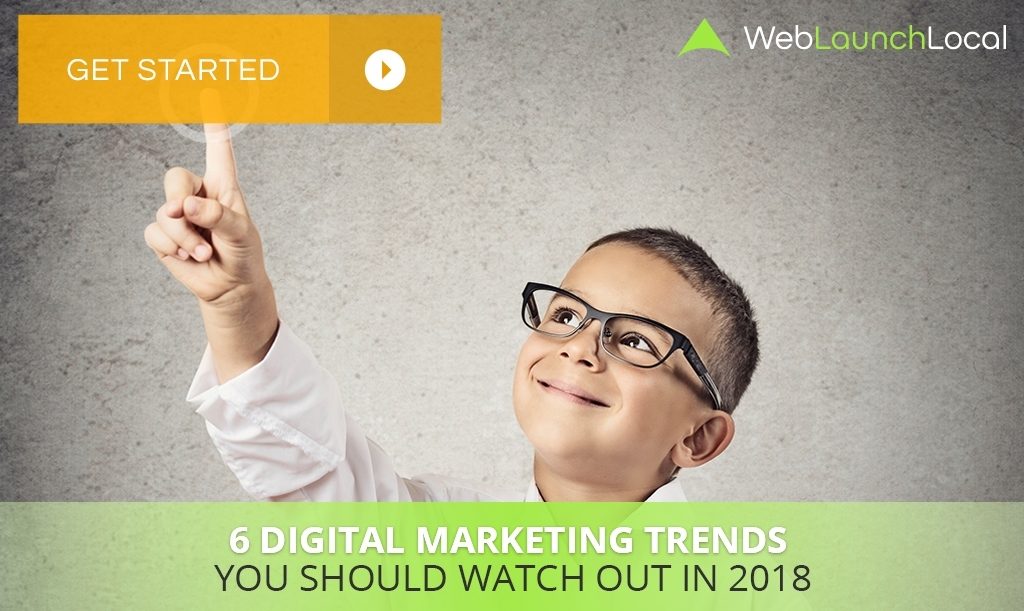 Technologies and platforms are starting to emerge and dominate the society. In effect, there will never be a more ideal and exciting time for brands to connect with present and future clients. In the digital world, the secret to success is knowledge. It is about knowing which technologies and platforms present the best opportunities for you and your market.
The year 2017 is coming to an end, and 2018 is about to start! In the aspect of digital marketing, the ratio of change is about to increase, yet again. To help you take advantage of those changes, here are six of the latest trends in marketing and advertising for 2018 that you should watch for.
Machine Learning
As many as  97% of the business leaders, the collaboration of talented human marketers and machine learning — automation entities will be the future of marketing.   Machine Learning is an essential part of artificial intelligence.
Over the years, humans become more demanding and tech-savvy. To catch up, the ability to respond accurately and quickly to customers' mood shifts will become vital soon. Machine learning will give a hand to achieving those efforts. It will offer pieces of predicted knowledge leveraged to your advantage.
Machine learning has already proven itself by making an impact in fraud detection and healthcare. In fact, it had already been included in the list of recent trends in digital marketing. Paypal had used predictive technology to battle against money laundering. You can expect that in 2018, it's going to conquer the marketing world by storm. Machine learning will help with content management and analysis. It will also deal with automated data visualization.
Micro-Moments
About 96% of users rely on their smartphones for research. The most successful brands will have the capacity to expect and tackle impulsive splurges. Businesses can resolve these micro-moments by giving the correct information when needed.  
People are now making a habit of making on-the-spot decisions. Thus, it can be expected that in 2018, there will be an increase in micro-moments. Mobile-first websites will become crucial to provide customers immediate information upon request.
Take BBC for example. It already had employed a 'greedy navigation' system to its mobile-first website. This assists its audience by allowing them to tap into small sections of massive mounds of information BBC offers.
BBC's mobile site shows a navigation bar displaying categories. These classes are arranged according to the level of personal importance developed and suited to fit the user's screen. Hence, making it easier to find relevant and rich information during a micro-moment.
Personalization
Improving a personalized online experience in 2018 will be very crucial. Customers demand more from brands and want to avoid the virtual 'noise' when purchasing. Businesses believe that there will be a 6% rise in annual revenue from personalization. While those in sectors such as finance, technology, and apparel are anticipating 10% increase or more.
Over the years, brands have used the power of personalization with their marketing strategies. They branch out to people based on behavior, demographics, and interests through automation. In fact, roughly about 66% of consumers say that they are likely to switch brands if they feel more like a person than a number.
For example, look at eyewear specialist Warby Parker. From an expert in personalized email, it now offers an expanded dynamic customer journey on mobile and desktop. They ensure that customers find what they are looking for through data and interactivity.
Upon navigating the website, consumers are quickly directed from the homepage to find and choose the product they want. There is an option called 'Available for Home Try-On' where five frames will be delivered to your home to try on. Interactivity wise, there is a quiz to help consumers look for glasses suitable for them. Also, buyers can upload a picture to find frames which look best.
All these strategies go a long way to provide a smooth, satisfying customer experience and to promote brand loyalty.
Dark Social
Today's consumer-led market shows that aside from sharing media links, people are now socially engaging. They use less monitored channels including:
Messaging apps: Platforms like WeChat, Facebook Messenger, and WhatsApp

Email: Referrers aren't shared to protect the privacy of users.

Native mobile apps: the likes of dedicated Instagram and Facebook developments

Securing browsing: The referrer won't be passed on if you click from HTTPS to HTTP, the referrer
Dark Social had been reported to be responsible for about 84% of outbound sharing; so it's not an area to ignore in 2018. It is gaining severe momentum, driven by messaging and mobile apps.  Understanding dark social is crucial. A company can under-report the social media value adding up to your business. That is only if social traffic is tracked with regular web analytics.
Dark social provides a vast amount of opportunity for businesses and brands. In 2018, it is ideal to invest time and money into this wide range of channels. It will not only assist you to achieve a host of niche demographics but extend your outreach significantly.
Video Advertising
The market for video is rising at a significant rate. It is a fact that about 52% of marketing professionals all over the world feel that video is the kind of content with the best ROI, return on investment. Additionally, 43% of consumers said that they want to see more video content from their marketers.
Video advertising will be beneficial for brands aiming to market their products or services in 2018. The reason? Simple. It's because there is a growing number of younger demographic viewers watching more videos on a broader range of devices than before.
The likes of Facebook, Snapchat, and Twitter are undertaking a massive land grab for video content. They all aim to expand usage and drive social engagement. This year, Facebook began a new video format investing in 6-second ads. These are developed in collaboration with advertisers to reach customers faster.
For brands to stand out from others and create significant consumer or professional relationships, they need to know how to strengthen their video-based advertising over a range of channels to catch the attention of their target market; whether it's 6 seconds or longer.
Chatbots
Whatever you think of Chatbots, there is no doubt that they will be turning heads in 2018.
Next year, it's highly probable that about 75% of developer teams will incorporate AI functionality in applications and services. Also, 80% of companies aim to integrate chatbots into their tactics by 2020.
Chatbots are instinctive, equipped with the capacity to enhance their efforts from continuous learning algorithms and cater to the needs of the hyper-connected, fast-paced digital realm that we live in.
By using AI-based chatbot functionality, H&M had launched a chatbot platform called Kik engaging with audiences by serving as a personal stylist, scanning your social photos and recommending outfits.
Up to date, users of Kik had exchanged around at about 1.8 million messages and still counting – as proof of the potential, potency, and importance of a chatbot.
Change is constant, and the face of digital marketing is not an exception. As daunting as it may be, the year 2018 will introduce more opportunities than ever. That is if brands use the most significant trends in digital marketing!
What are you waiting for? Here at Web Launch Local, we can help make 2018 the year that you create your best digital strategy!
Tags: branding trends 2018, digital media trends 2018, marketing trends for 2018, social media marketing trends 2018