By Web Launch Local | November 6, 2019 | Leave a comment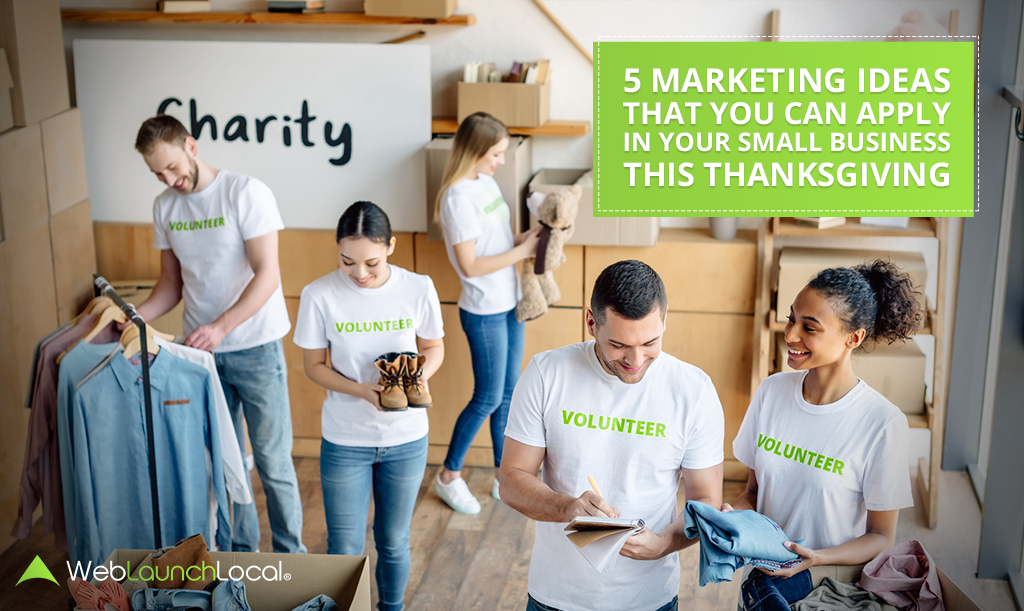 Look around you. Many businesses are already doing Thanksgiving promotions, special deals or giveaways this season. You don't want to stay behind, right? Of course, you don't. That's why we are giving you holiday promotion ideas for small businesses.


Offer a gift to your best customers

This holiday season is a good time to say thank you. Your customers have made your business grow and they absolutely deserve a reward. In fact, keeping a loyal customer is more difficult than getting a new one (and far more profitable). So, you better think of the best gifts form them.
Need some ideas? You can make a guide for improving Thanksgiving dinners or decorations (you will make your customer's life a lot easier). Also, a loyalty discount isn't a bad idea, so your frequent customers become even more loyal to your business. And, if you want more immediate sales, you can make a secret event where you offer exclusive products for them.


Do something food-related

Not all businesses are food-related but don't let that stop you! Book a Thanksgiving dinner in a nearby restaurant and give it to your lucky customers. Make a contest, a raffle or any activity that you want your customers to take part in (in your business or your social medial). Be sure to photograph the winners so that you have evidence to publish. 
Another good idea is to do cross-promotion with another related business. Even if you aren't a food business, you can offer your product or service with another business purchase. You can partner with a decoration service, a restaurant or a cleaning business, it depends on your creativity. Remember: make it easier for your customers to celebrate Thanksgiving.


Give thanks with a marketing video

Thanksgiving's a time for cherishing. If you have words of gratitude in your heart and want to let them out, this is your chance. You don't have to sell or give anything, just say a sincere thank you message to your customers and community. You can mention your loyal customers, your staff or even invite a couple of success stories of your clients.


Arrange social media contests

If you're a small business during the holidays, put to good use your social media accounts. Be sure to have a considerable amount of active followers so your posts don't go unnoticed. A contest or a quiz could be good ideas for obtaining value data from your audience, but, if you aren't sure that you have enough active followers (perhaps you don't use your social media that much) a convenient way to activate and increase your community is to do a giveaway.

Participate in charity activities

Helping those in need is always a good choice. Put to practice the values of your business and make a charity event. You can make alliances with other businesses to have more reach and generate more support.
Some ideas: make a collection of goods for the poor, a run whose profits are for charity or organize a dinner for children in an orphanage. Remember that the main objective is charity but don't forget to take pictures and communicate the whole process so that your followers find out.

We hope you put these ideas at good use. No matter what strategy you decide to apply, remember that the main goal is to celebrate the holidays and make your customers feel good. If you aren't sure of how to proceed with this Thanksgiving ideas, contact us. HappyHolidays!