By Web Launch Local | April 16, 2018 | Leave a comment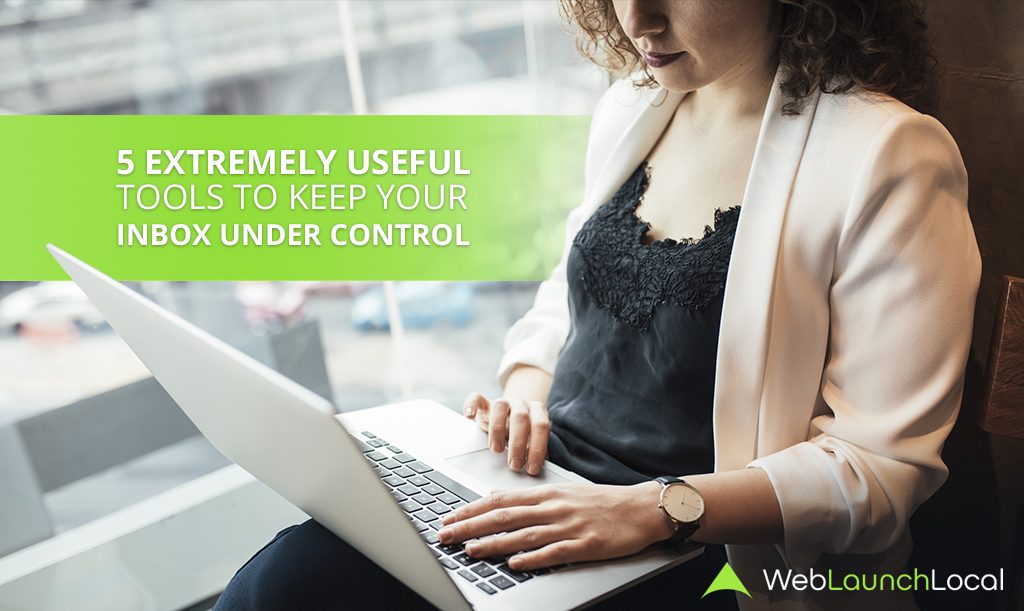 *Ding!*
You've got mail!
Hey, look! Someone just sent you an email. Are you excited to open it? Are you worried about the number of emails in your inbox now? Or just both?
We get it, receiving emails can both be quite a thrill and a bit overwhelming. It's thrilling because it might mean that you're making positive progress with a client, or accepting an invitation to a fun event. However, it can be overwhelming if the situation gets out of hand.
Keeping your inbox under control might seem a long and tiring task, but in reality, it's just a piece of cake–especially if you have the right management software to help you out!
Don't know what we're talking about? Learn here the best way to organize email.

Here are the top 5 handy inbox management tools to tame your inbox chaos!
#1. Mailstrom
Applicable to: All email programs
What you should know:
Mailstrom is a web-based email client allowing you to make aggregate actions in your inboxes. Connect it to your email then you can archive, delete, and move messages by hundreds or thousands. You can also keep your inbox organized with its features like unsubscribing, automatic rules, Block Sender/Subject, and daily or weekly email reports.
What you need to discover:
Aside from the features mentioned above, Mailstrom also includes an "expire" function to set a time limit for emails from specific senders to stay in your inbox. Another one is the "chill" feature where users have the discretion to when to deal with incoming messages. Last but not least, there are the "People I've Emailed" view that directs you to the emails from people you most frequently reply to.
How much it costs:
You can start with a free trial, and then opt for subscriptions–Basic ($4.95/mo., $49.95/year), Plus ($9.95/mo., $99.95/year) and Pro ($29.95/mo., $199.95/year).
#2. Taskforce
Applicable to: Gmail and other Google Apps
What you should know:
Taskforce is a Gmail application that allows you to convert your emails into a list of tasks so you can add due dates, set reminders, assign them to other people, and check them off after you're done.
What you need to discover:
You can easily categorize your to-do lists into folders. Therefore you can keep track and have your tasks and emails organized all in one place.
How much it costs:
There is a free two-week trial, and after that, you can subscribe for $5 per month.
#3. Boomerang
Applicable to: Gmail and Outlook
What you should know:
Boomerang is deemed to be a "snooze button" for emails. It helps you clean up your inbox without losing track of urgent and relevant messages. Boomerang can also help you manage emails that can't be dealt with at the moment but needs action later on. It can remind you to pay bills, make greeting notes for birthdays and holidays, and follow up on a client's email.
What you need to discover:
It has the "boomerang" feature that sends back a message to your inbox to remind you of a specific date and time. There is also an "Inbox Pause" feature where you can hold new messages so they won't appear in your inbox until you're prepped for them. Boomerang also has an "Email Game" which does reading and responding to messages more exciting and fun! You can compete with your friends for the title of the inbox champ.
How much it costs:
The basic version is free, but if you want more advanced versions, subscription starts at $4.99 per month.
#4. TouchDown
Applicable to: Outlook, certain Android, and iOS platforms
What you should know:
TouchDown by Symantec provides tight security for corporate emails and to separate company data from personal ones. Generally, it allows users to access their Outlook emails securely on any mobile device.  
What you need to discover:
The software has three main features; secure email container, ease of use, and multi-device support. TouchDown ensures that your data will not be compromised, makes sure you can access it anywhere, and that it supports Android and iOS platforms.  
How much it costs:
You can avail TouchDown for $19.99.
#5. Unroll.Me
Applicable to: Gmail, Outlook, Yahoo! Mail, Google Apps, AOL Mail, and iCloud
What you should know:
Unroll.Me is a free tool that allows you to massively unsubscribe from all the newsletters that you don't even read. You can combine those subscriptions into one easy-to-read message. The software first scans your inbox and lets you unsubscribe to everything all at once, or you can choose individually. Then combine all your most liked subscriptions into a single email called the Rollup that can be delivered at any time of the day.
What you need to discover:
Aside from the features mentioned above, Unroll.Me is available on every device and keeps all RollUps in one folder to keep you organized. Oh, did we mention that it also works for social media notifications, too?
How much it costs:
It's free!
Now, do you get it? Of course, you do!
Aside from those tools above, here are bonus tips to maintain your inbox organized as possible!
Delete old emails that you don't need.
Still, have an email invite from a past social gathering year 2003? Ask yourself this, "Do I need them?" No. "Should you get rid of it?" Definitely, yes! See to it that you clear your inbox of old unuseful messages that would add clutter to your inbox.
Unsubscribe, like really.
For sure, you have those subscribed newsletters that you swore you'll read once you got the time. But have you had the time? If you're not going to read them, delete them. The majority of the consumed space in your inbox come from your newsletters. Getting rid of them will surely help tame your inbox.
Join multiple email accounts.
Sometimes, having multiple accounts doesn't do the trick. Imagine having different email inboxes containing a lot of messages. Won't that make it more difficult to keep track? Using those tools above, you don't need to have separate accounts anymore–having one will do!
Save yourself the chaotic experience of having a disorganized email inbox! Being organized is always better, and achieve this by using the software and tips above! This is brought to you by Web Launch Local!
Tags: best way to organize email inbox, inbox management tools