By Web Launch Local | February 5, 2018 | Leave a comment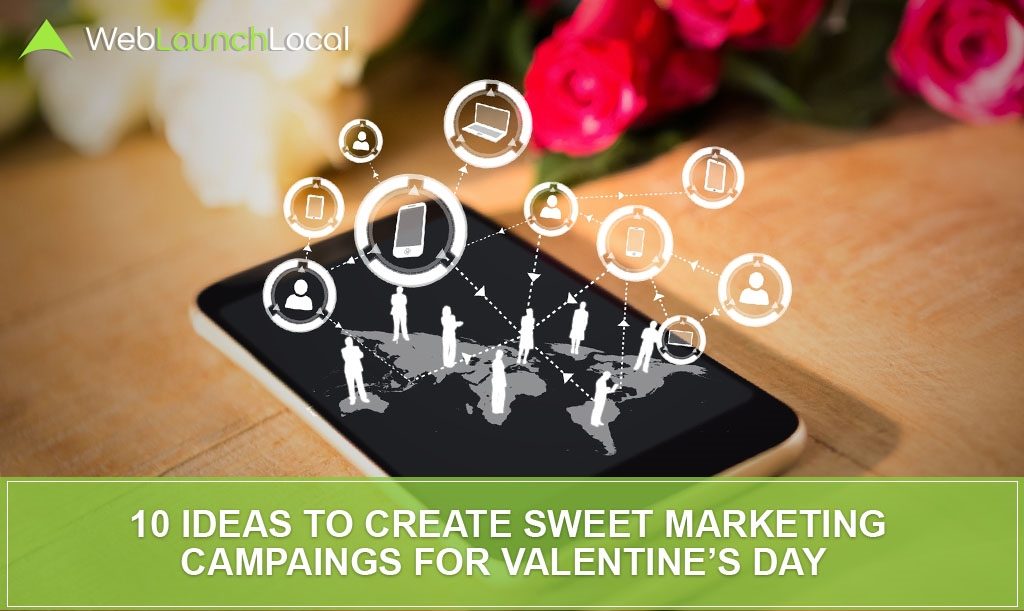 While every day should be a day of love and affection, everything should be extra when February 14 comes. Valentine's Day is not only for those people who celebrate and believe in the day of love but also a huge day for businesses to use for marketing their products or services.
Each year, Cupid's Day brings chances for people to make the day unforgettable and special for their loved ones. With today's high nature of competition, many business ventures seize any opportunity that allows them to promote their brand to capture the customer's attention.
Valentine's Day can be one of the easiest ways for companies to go the extra mile in connecting with people emotionally. Have you started your marketing campaigns? If not, here are ten valentine's day campaign ideas for you to try!
#1. Make great offers
This day is a wonderful time to create limited product bundles such as a  'Buy 2 for 1,' or  'Book before midnight on Feb. 14th' offers.  Many businesses use that day to promote sales by using special discounts on their items.
#2. Surprise your followers and fans
Ford isn't a brand that you usually connect with during Valentine's Day. However, in 2015, they made a unique V-day campaign to promote its then newest product – the 2015 Ford Mustang. For that campaign, Ford used a professional female stunt driver and set up blind dates for her without revealing her true identity. The guys showed up at a cafe, and their date led them to a pretty wild car trip. The whole thing was filmed by a hidden camera and Ford uploaded it to its Youtube channel garnering over 13 million views.  Afterwards, all participants had to sign a waiver permitting Ford to use the videos with them in it for legal purposes.  
#3. Create a Valentine's special within a service
Tinder teamed up with Giphy in time for Valentine's day to offer their users who stumble upon words an opportunity to express themselves through graphics. In fact, the two brands wound up being "a match made in heaven" as one of the top 25 most used.  Giphy GIFs usage increased considerably courtesy of Tinder users.
Also, another industry that eagerly anticipates Valentine's Day are house cleaning services. They seize the opportunity to offer their services and spice it up a bit with freebies included! Take a look at how Busy Living Cleaning took advantage of these packages!
#4. Use Facebook or Pinterest for your advertising
This is a great way to encourage shopping for Valentine's day!  There are a lot of users on Facebook and Pinterest so you can reach out to them.  Consider these statistics from Facebook campaigns, although they are from 2014, and those ideas are still good today.  
With so many people looking to make their own crafts Pinterest is great for reaching people.  Pinterest is for sharing, and isn't that what marketing really is about?  
#5. Organize a contest
Organizing a contest is one of the easiest things to do every holiday of the year. Think of an appealing contest with an on-point hashtag to attract people, creating a user-generated content. This will help promote your brand because users will want to share it with their friends.
During Valentine's Day in 2014, Evian started a social media campaign 'I love you like…' urging people to finish the phrase with unique non-cliche comparisons and posts on Twitter, Instagram, and Facebook. The brand had received various responses as "I love you like rubber ducks love baths," along with the promotion to "share the love" with their followers. The hashtag had a total of 187,000 impressions on its first week and an estimated 1.2 million for the first 48 hours.  
#6. Offer a Valentine's Day Service – ways to express love
Revlon had launched its 2016 Valentine's Day hashtag campaign '#chooselove' as part of its ongoing trend Love Is On. The drive itself encouraged people to upload a photo on Instagram or Twitter (or directly on the website) of themselves blowing a kiss. Then their recipient was tagged so you knew who they blew their kiss to. All the pictures with the hashtag #chooselove were displayed in a feed on their website.  That campaign raised Revlon's global market share by 2% in the makeup industry.
#7. Make a fun, unforgettable experience
Take a look at how Ted Baker, a luxury clothing retail company, had launched their 2016 Valentine's Day special different from other campaigns. The business had made striking illustrations and began an online game called 'Soulmates' where you fish in a sea of colors to find your soulmate. If you caught it, you can join a competition to win a Ted Baker shopping spree. This enticed many more people to check out his online store.
#8. Make use of emotions
It's a given that Hallmark's sell V-Day related greeting cards. But this time, they wanted to shed light on the point that love is a whole lot more than buying one of their 'I love you' cards. In 2011, they interviewed seven couples professing what they felt for each other without using the word 'love.' Watch it out here.  This increased the number of customers and first-time buyers going to their stores.
#9. Cater the needs of all your target groups
It's pretty much evident that it's easier to target couples on Feb. 14 than singles. So now, how can you get a single to patronize your product on Hearts' day?
Virgin Trains had no problem with that. The brand offered a ride in its Love Carriage for a unique dating experience in 2016. About two dozens of people got the opportunity to join the 'high-speed dating' at 125 mph in a love carriage packed with roses, prosecco, romantic music and speed dating games.
Another example is that of Woolworths' V-day gig. It celebrated the love of all kind so that families, couples, and friends could dedicate a message to their loved ones and have it broadcast all over that store. Their campaign had boosted the store's popularity and revenue as well.
#10. Use humor as your last resort
In case your product has nothing to do with the romantic stuff, humor can always get you through. One such brand, Innocent Drinks, a company selling more than two million smoothies a week, is famous for its humor marketing. In 2015, Tesco came through by starting a #LoveIsAllAround campaign and generated a series of amusing e-cards for customers to use on social media. Their campaign boosted its market ten times above Tesco's average.
Valentine's should be a special day not only for people but businesses too. Promote your brand in line with the occasion with these campaign ideas brought to you by Web Launch Local!
Tags: create a marketing campaign, creative marketing campaign ideas, creative marketing campaigns, effective marketing campaign, successful marketing campaigns